Monday, June 26th, 2017
Records fall at Celina Pentathlon
By Gary R. Rasberry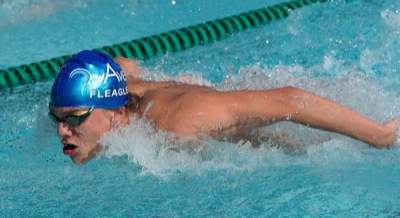 Friday's rain gave way to sunny skies on Saturday as the Celina Dolphins swim team hosted its annual Celina Pentathlon at Bryson Pool. The event allows swimmers to compete in all four disciplines with older swimmers also swimming the inclusive individual medley.
The area was represented by the Coldwater Cudas, St. Marys Seahawks, St. Henry Stingrays, Fort Recovery Eels and New Bremen Barracudas. Also competing were the Wapakoneta Waves and the Troy Dolphins along with swimmers competing unattached with any program.
One of the highly anticipated matchups was in the boys' 15-18 year old division as Justin Fleagle and Keaton McMurray dueled in five events. McMurray broke meet records in the 100-yard individual medley, 50 butterfly and 50 backstroke, but Fleagle, who broke the 50 backstroke to beat McMurray by over two seconds and also won the 50 freestyle and won the overall title with a combined time of 2:53.20, just under a second ahead of McMurray's 2:54.08. McMurray was honored for breaking the most records for boys' swimmers on the day.
In the girls' 15-18, Claire Gass of Celina dominated, winning the title by just under seven seconds ahead of St. Henry's Julia Beyke. Gass set a new meet record in the 50 breaststroke to earn the girls' record-breaker award.
The host Dolphins also picked up wins from Campbelle Gass and Gavin Luebke, who swept the boys' and girls' 8-under divisions, which only swam the four strokes and no individual medley, and Kennedy Newell, who won the girls' 13-14 division.
The St. Marys Seahawks picked up a win from Bradey Triplett in the boys' 9-10 division. The New Bremen Barracudas' Annie Jiang won the girls' 11-12 division.
The Wapakoneta Waves won two divisions as Nate Metzger won the boys' 13-14 division and Alex Honigford won the boys' 11-12 division. The Troy Dolphins picked up the other championship with Gwen Moore winning the girls' 9-10 division.