Friday, June 30th, 2017
Amphitheater project scheduled for this fall
Changes coming for Celina park
By William Kincaid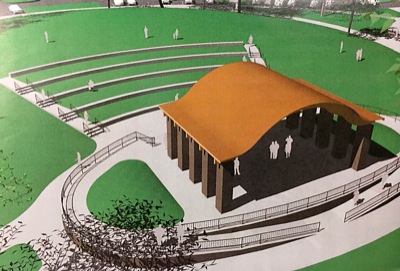 CELINA - Mayor Jeff Hazel says The Harley Jones Rotary Memorial Amphitheater will be built this year on the former Mercelina Park ball diamond that was removed after additional ball fields were created in town.
"My intent is to have that amphitheater built ... this year," he said. "And I think we can do that - no, I know we can do that."
Updating Grand Lake Rotarians on Thursday morning about plans to develop the Bryson Park District, Hazel said the amphitheater will face an open grass area capable of holding between 1,500 and 2,000 people. The grass area will be sloped to allow all spectators, who would face Grand Lake, to see the action on the amphitheater stage.
Though the plan is still being designed by Bassett Associates of Lima, images of the proposed amphitheater were shown to Rotarians on Thursday morning.
"We chose them through a selection process and we told them, 'You've got a blank slate. Where do you want it?' " Hazel said. "The only thing we told them is 'you can't cut down a tree and you can't move the lake.' "
"Behind that hot water hole, as you all know, there's some large trees. I'm not cutting those down," Hazel emphasized.
Images released by Hazel show the amphitheater encircled by a walking path and containing ramps for people with disabilities. A nearby restroom is also planned, Hazel said.
"It will allow us a tremendous venue for any groups that come in for a Concert in the Parks series," he said, adding that other community groups will be allowed to use the amphitheater.
Asked who's going to manage the venue, Hazel said city officials as well as the groups using it will oversee the amphitheater.
"It's not the Niswonger (Performing Arts Center), but we have to see where it kind of goes first," he said. "It will have its own legs to go forward."
The city received $1.2 million in state capital dollars to construct the amphitheater, which Hazel has said will be the cornerstone of the new Bryson Park District along Lake Shore Drive. One of the grant requirements, Hazel said, was that the amphitheater be named after Harley Jones.
Jones, 82, died at his residence in Celina on March 20, 2016. He was known for founding Jones Jeweler in Celina and serving on numerous local and state committees and civic organizations. Named the Mercer County Republican of the Year in 2015, Jones was more than an acquaintance of Gov. John Kasich, State Rep. Keith Faber, R-Celina, and former State Rep. Jim Buchy, R-Greenville.