Monday, July 3rd, 2017
Fireworks an art form for man who plans show
By Tom Stankard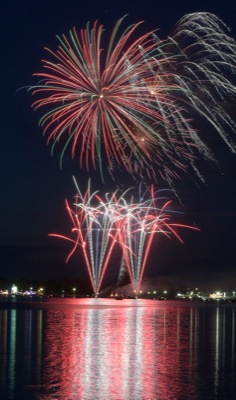 CELINA - Fireworks represent a celebration for some people, but for Barry Peel Jr. they are an art form.
Peel's grandfather introduced him to fireworks at a young age, and he hasn't lost interest since, Peel said.
While watching a fireworks show at the Celina Lake Festival 30 years ago, he told his wife and son, "someday I want to do that job right there."
Over the past 12 years, he has been involved in assembling and leading shows alongside his brother Brett and son Barry III.
Leaders from other local shows help out too, Peel said. With their help, the Peels began setting up for Saturday's Freedom Days' show in Celina a week prior, assembling wooden racks and taking materials to the barge next to the boathouse along the West Bank.
"It's a major group effort," he said. "We help each other out because we're good at different things."
On the barge Saturday morning, they were putting tubes into the crates into which shells would be loaded.
Throughout the 22-minute show, more than 1,000 shells exploded in the sky, Peel said. The event cost organizers $23,000.
"Celina is blessed because it has a lot of people willing to donate. It's awesome to shoot here, because the people really roll out the red carpet for us," he said.
Each shell was ignited electronically as part of a choreography paired with music measured to one-tenth of a second. The goal, he explained, is to have two identical shells explode in the sky simultaneously.
Safety comes first when being around fireworks, Peel cautioned.
"You never put anything over the tube you're not willing to lose," he said. "It will take your head clean off if you're not careful."
Leading up to the show, he had talked to kids to ensure he included their favorite color, Peel said.
"To me, it's all about entertaining the kids," he said. "It brings me satisfaction."
"My biggest critics are my five grandchildren," he added
The group watched the show from the barge. As the show progressed, Peel said they discussed ways they could have made the performance even better.
"The ultimate goal is to shoot the ultimate show," he said. "We haven't done that yet because we strive to make it one bit better."
Similar to an on-stage performance, fireworks are an invigorating performance in the sky, Peel said.
"It's a 20-minute adrenaline rush," he said.
To cap off the show, he included his favorite firework effect, a salute, Peel said.
"The salute tells the crowd thank you. It's nothing but a bang. My favorite color is loud," he said. "The crowd cheering makes it all worthwhile."