Wednesday, July 5th, 2017
Minster wins sectional title
New Bremen also secures spot at district tournament
By Colin Foster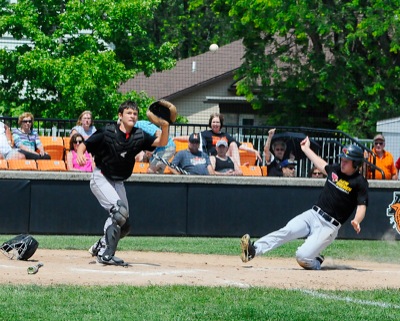 MINSTER - The majority of Americans celebrated the country's independence on Tuesday.
Minster celebrated another baseball title.
A month removed from winning the Division IV state baseball championship, the Wildcats claimed the Auglaize/Shelby County Sectional title on the Fourth of July with a 7-4 victory over rival New Bremen at Hanover Street Park.
The Wildcats are now 6-1 since returning home from their annual Tennessee trip. They earned a date with Mercer County runner-up St. Henry at 3 p.m. on Sunday in District ACME 4 Tournament at Coldwater.
"It says a lot about our kids, their mentality to come out here every day and play the right way," Minster coach Jay Eilerman said. "They understand that once you put your orange jersey on that you're playing for something a little bit bigger than themselves. I can't be more proud of them."
New Bremen qualified for its first district tournament since 2007. The Cardinals outlasted Fort Loramie for a 3-2 victory in 13 innings in Sunday's loser's bracket final to earn one of the two automatic bids.
"The first day we practiced before we started the ACME season, I told them our goal is to get to districts," New Bremen coach Brad Selby said. "We battled and we got there."
The Cardinals tried rallying from a five-run deficit against the Wildcats but couldn't get closer than one run. Minster's Jared Huelsman relieved Jack Heitbrink on the mound with New Bremen threatening to take the lead in the third and shut down the Cardinals over the next 2 1/3 innings. Noah Enneking held New Bremen scoreless over the final two innings.
Isaac Schmiesing began a five-run second for Minster with an infield single. An error on the play allowed him to reach second, and he advanced to third on August Boehnlein's groundout. Schmiesing scored with a head-first slide following a wild pitch by Nick Wells.
The bases were loaded later in the inning after an infield error, a single by Austin Shinabery and Wells' hitting Jacob Hoying with a pitch. Jack Olberding followed with a one-run single, a passed ball allowed another run to score and Alex Lehmkuhl capped the inning with a two-run single.
Heitbrink - the starting pitcher in Minster's state title win over Russia - cruised through the first two innings before encountering trouble in the third. Heitbrink gave up three walks, and three hits including a two-run single to Patrick Wells and a one-run single to Spencer Alig. Huelsman replaced Heitbrink after he had issued his third walk of the frame. Huelsman walked Jackson Terpstra with the bases loaded to make the score 5-4 but then struck out Casey Parker to prevent further damage.
Huelsman only faced six batters over the next two innings. He finished with three strikeouts and one walk. Enneking scattered two hits over the final two innings and kept the Cardinals from scoring.
"Jared Huelsman hasn't thrown a whole lot for us, but he came in and did a good job," Eilerman said. "Noah came in and did the same. I think Noah threw a little bit on Saturday (in a 14-1 win over New Bremen) and he just kept on going."
Schmiesing scored again in the third after having opened the inning with a single. After stealing second, Schmiesing got a good jump for third before Heitbrink hit a ground ball, and he didn't stop until he reached home.
Minster added another insurance run in the fifth. Anthony Boehnlein hit a single with one out and later scored on New Bremen's sixth error of the game.
"When you have six errors and you only lose by three to the defending state champs, that shows we battled," coach Selby said. "The kids did everything we asked of them. We ran out of arms in the second game. But the kids who pitched, they pitched their butts off. That's all we can ask of them. We had a long battle that first game. That took a little out of us, but no excuses."
Schmiesing went 3-for-4 to lead all hitters in the game. Shinabery and Olberding also had multiple-hit games for Minster.
Parker and Justin Tenkman each had two hits for the Cardinals.
New Bremen and Fort Loramie were halted by weather in the seventh on Monday night, tied at 2-apiece.
The teams resumed play at 11 a.m. on Tuesday and each struggled mightily to get a run across. The Cardinals left 14 runners stranded on base and the Redskins 12.
New Bremen's Nick Wells led off the 13th with a single and was bunted to second by Bryce Blickle. Grant Selby came to the plate for his seventh at-bat and hit a ground ball back to the Fort Loramie pitcher, who sailed a throw high over the first baseman's head. Wells sprinted home and slid in safely for the winning run.
Spencer Alig held Fort Loramie scoreless in six innings of relief. He gave up two hits while striking out four and walking three. Tenkman, Patrick Wells, Nick Wells and Caleb Alig all had two hits in the win.