Saturday, July 8th, 2017
Lonsway heading to Ohio State
Celina lefty turns down Reds, hopes to be high pick in 2020
By Colin Foster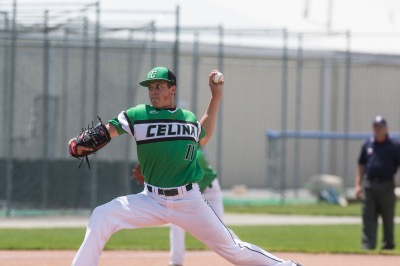 CELINA - Seth Lonsway fell to the Reds in the 19th round of last month's Major League Baseball draft. That wasn't supposed to happen.
"I put in all the hard work and I started seeing the results, you know, I came out this spring and touched 94 miles per hour and was sitting at 91 to 93 all of spring ball," Lonsway said. "Guys were saying all the way up until two weeks before the draft that you're definitely a second-to-fifth rounder. We heard that numerous times from numerous scouts.
"It was disheartening being told this and that, being told things that don't actually amount to what they were."
Lonsway is already focused on rising his stock for the 2020 draft.
He gave some thought to signing with the Reds, but officially turned them down on Friday and chose to honor his commitment to Ohio State.
It was the final day for MLB clubs to sign players with remaining college eligibility. Just before the 5 p.m. deadline, the Reds reached an agreement with right-hander Hunter Greene, who they had taken with the second overall pick in the draft. Greene signed a minor league contract with a $7.23 million signing bonus - the highest ever bonus for a high school pitcher.
"Me and Hunter Greene were the only guys not to sign and they were looking to get both of us, but they just didn't have enough money and he wanted the max pay," Lonsway said.
Last season's Division II co-Player of the Year is currently pitching for the Midland Redskins, a team comprised of many high-profile Division I college players. He will report to Columbus in August and expects to lock up a starting spot in his freshman season.
And with continued development over the next three years, Lonsway has his sights set high when he's eligible for the draft again in 2020.
"I'm full-steam ahead," Lonsway said. "My mindset is be drafted in the top 25 picks overall. I'm going to make sure the Reds regret not signing me and wanting to pay me more. That's my mindset right now."