Monday, July 10th, 2017
Top seeds pick up Sunday wins
District 4 ACME Tournament
By Gary R. Rasberry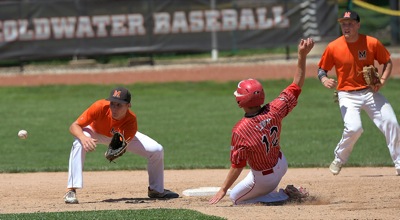 COLDWATER - The top seeds from the Mercer and Auglaize County sectionals came away with the big wins during the opening games of the District 4 ACME tournament on Sunday at Veterans Field in Coldwater.
Coldwater took advantage of several New Bremen errors and Ross Weigel pitched a one-hitter in the Cavaliers' 11-1 five-inning win in the opening game.
The finale was a sloppy contest. St. Henry scored five unearned runs in the top of the second, only to have Minster score six unearned in the bottom of the third en route to the Wildcats posting the 7-5 win over the Redskins.
Coldwater and Minster play in the winner's bracket final tonight at 6 p.m. at Veterans Field. Afterwards, St. Henry and New Bremen face off in an elimination game around 8 p.m.
Coldwater 11,
New Bremen 1 (5 innings)
The Cavaliers got out to a great start with three runs in the bottom of the first as three Cardinal errors allowed all three runs across. Nate Grunden reached on an error to bring home Sam Broering. After Austin Riethman grounded out to bring home Jacob Wenning, another error on Cole Frilling's grounder to third scored Grunden.
Coldwater scored three more in the second thanks to RBI singles from Wenning and Riethman. After adding a run in the third, Coldwater added two more in the fourth thanks to RBI singles by Frilling and Alex Wourms.
In the fifth, Wenning came home on a balk and Wourms drove in Seth Miller with a single to end the game on the run-rule.
In all, five of the Cavaliers' runs were unearned.
"It was nice to get some runs early," Coldwater coach Tom Brunswick said. "We took advantage of some errors. I liked the way we played the game. We ran the bases well (seven stolen bases). We put the ball in play and made some good defensive plays."
Meanwhile, Weigel, who picked up the win in the Cavaliers' sectional championship win over St. Henry, had another sharp start. Weigel struck out one but received great defense as he enticed the Cardinals into 10 groundouts in the game. New Bremen scored its lone run in the third without benefit of a hit when Ryland Archey reached on an error and later scored on a Grant Selby sacrifice fly. New Bremen avoided being no-hit when Archey singled with one out in the fifth, but Weigel avoided any additional issues with two straight groundouts to end the game.
"When you get a lead, it's important for (the pitcher) to go right at the hitters," Brunswick said. "Ross did. I think he did a good job of getting (New Bremen) to swing the bat and (the defense) made some plays for him."
Wenning went 3-for-4 with three runs scored. Wourms went 3-for-4 with two RBIs.
Minster 7, St. Henry 5
Neither team turned in a gold-glove defensive effort. Both combined for nine errors in the game, which resulted in all 12 runs being unearned.
"I've never seen a game where all the runs are unearned," Minster coach Jay Eilerman said. "That's unlike St. Henry and Minster."
St. Henry scored all of its runs in the top of the second. A leadoff error was followed by a single and two straight outs. St. Henry started the run barrage with a Ryan Bruening RBI single followed by a run-scoring single by Ryan Luttmer and then a two-run triple from Parker Link and RBI double from Rylee Deitsch.
After that scoring burst, the Redskins were shut down by Noah Enneking over the next four innings. Enneking scattered three hits, two walks and a hit batsman, but St. Henry left seven runners on base during that stretch.
"After that second inning, he gained confidence in himself," Eilerman said of Enneking. "He got the curve working and rolled from there."
Link got through his first two innings on the mound unscathed, but the defensive roof fell in during the third inning as three errors helped Minster send 10 men to the plate. August Boehnlein singled home two runs and Isaac Schmiesing drove in another with a single with several more runs coming in via errors.
"August sparked some energy into the team," Eilerman said. "We just rolled after that."
Sam Lefeld, who came on to get the final out of the third, kept Minster scoreless through the fourth and fifth, but in the sixth an errant pickoff attempt at third allowed Adam Knapke to score a big insurance run.
"We came out on fire. Everybody was up," St. Henry coach Kyle Bruggeman said. "Had six errors. That kills any team. A little bit of lack of focus."
All that remained was for Minster reliever Jared Huelsman to get the final three outs in the top of the seventh. Huelsman got a groundout before back-to-back strikeouts closed out the game.
Anthony Boehnlein was the only Wildcat with a multi-hit game, going 2-for-3.
Link, Deitsch, Jay Knapke and Bruening each had two hits for St. Henry.