Saturday, July 15th, 2017
Foxes on the run at golf course
By a stroke of luck, critters make home at Minster links course
By Nancy Allen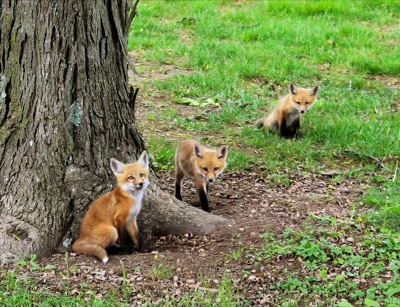 MINSTER - A family of red foxes has taken up residence at Arrowhead Golf Club south of the village.
Course superintendent Matt Sherman said one of his workers noticed the den in mid-April in the hollowed-out bottom of a shagbark hickory tree between the second and ninth holes. Upon investigating, Sherman said he saw four little heads peeking out. He would eventually learn the mother fox had six kits in all.
"We decided to rope off the den with a 50-yard perimeter around it and put up a sign," he said. "It says, 'caution, fox den ahead.' "
The babies are now larger and have been spotted on the course more regularly, Sherman said, adding that they look like skinny puppies with big tails. Sherman said he and course golf pro Kevin Chalk have snapped numerous photos of the foxes on the course.
The reaction from most golfers has been positive, Sherman said. On Monday, one of the kits provided some excitement during a ladies league game when it ran off with a golfer's ball.
Sherman said other than the golfball incident, the foxes don't bother anyone. In fact, they may be helping reduce the rodent population at a nearby farm, he said.
"They are kind of hanging out there more, so I guess they are taking care of their mouse problem," he said. "That's what they eat mostly, small rodents."
According to the Ohio Department of Natural Resources Division of Wildlife, foxes typically eat mice, rats, rabbits, groundhogs and other small mammals as well as birds, fruit and some grasses.
Auglaize County Wildlife Officer Mark Schemmel said the red fox population appears to be growing, noting he has received several phone calls in recent years reporting sightings. He said he knows of no incident in which a healthy fox attacked a human but cautioned people never to approach a mother fox with kits.
Mornings at 6:30 a.m. and after and evenings after 8 p.m. are the best times to see the foxes on the course, Sherman said.
"In the mornings the babies just sit there and watch you golf. They are so cute," he said. "We only really see the mother at night."
Sherman said people are interested in them.
"It's an added bonus," Sherman said. "People ask about them, and we've taken people (non-golfers) out on the course to see them."
Sherman enjoys wildlife, so he is thrilled the foxes have made the course their home. He has put up three purple martin houses and bat houses around the course to further enhance the area for wildlife.
"Our golf pro found a family of raccoons out here and then we saw a turtle crossing one of our fairways," Sherman said. "He joked that we should rename the golf course 'The Wild Kingdom.' "
Bill Winner, who takes care of the senior league at the course, quipped that the course should be renamed The Fox's Den, noting the course in Celina no longer uses that name.
Sherman has been the course superintendent for two years and has golfed the course for the last 20 years and doesn't remember any foxes living there prior to this family.
Schemmel said the young foxes likely will leave the area in mid- to late summer after their mother chases them off.
"Once they are old enough to survive on their own, they will move out and find their own territory," he said.