Monday, July 17th, 2017
Schatz crowned again
34th Annual Kings Royal
By Mike Ernst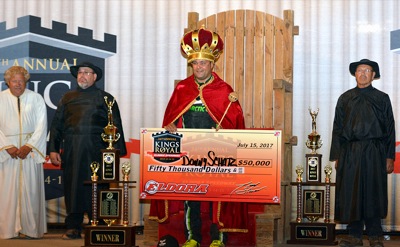 ROSSBURG - Donny Schatz had a perfect Kings Royal Saturday night at Eldora Speedway.
The Minot, North Dakota, driver was the fastest qualifier, won his heat race and then dominated the 40-lap main event to capture his fourth king's crown and become the first back-to-back winner of the $50,000 to-win spectacle.
"Anytime you can do anything that Steve Kinser hasn't done, it's pretty incredible," Schatz said of winning back-to-back titles. "It's something I don't think about at this moment. The way that race car is rolling, I'm thinking about (the next race). I'm not getting wrapped up in the hype of records and stats; it's just not who I am or how I am."
First-time Kings Royal starter Cole Duncan won the sixth heat race, started on the pole of the feature event and led the first 13 laps before Schatz, who had started sixth, drove into the lead with a pass in turns one and two.
"I just tried to play it cautious, but I seemed to be a little better than the guys in front of me while I tried to search out and find the right line," Schatz explained of his early race strategy. "I got (to the front) fairly quick."
Once out front Schatz was never challenged in the caution-free event.
"I was better in dirty air and that's something this race team works hard on," Schatz said. "It seems like I can get my car to stick when I'm behind somebody else. Why that is, I don't know. I seem to be better in dirty air than I am in open air."
With Schatz cruising out front, the attention of the record Kings Royal crowd turned to Friday night's winner Christopher Bell. Bell, who had dropped out of his heat race with engine woes, used a qualifying provisional and started 20th in the 24-car field.
Bell thrilled the fans charging through the field to eventually finish in the runner-up position but was 3.966 seconds behind his Tony Stewart Racing teammate Schatz.
"That was a ton of fun running up there right around the fence," Bell said following the race. "For me, I was just trying to run smart and take my time. I knew I had a really good car. Looking back at it, if I had known it was going to go green to checkered, I probably could have made a couple more moves to get through the field faster to give me more time to run down Donny. To come from 20th to second on a green to checkered race is something that I'm pretty proud of."
Brad Sweet completed a solid weekend with his third consecutive top-three finish but was disappointed he never stood in victory lane all weekend.
"We have a lot of consistency in our car, just some of these races we haven't hit it exactly right for the main event," Sweet said. "Donny was just a good bit better. He just drove by us and checked out. I searched around on the racetrack and just never found a spot where it was super good. I think we kind of know where we missed it. There's a lot of human element in decision-making before these races and you have to make the right decisions if you want to win them. We'll learn from this and try to keep getting better."
Duncan held on for fourth while Ryan Smith drove from 22nd starting position to the fifth.
Lee Jacobs, Chad Kemenah, Daryn Pittman, Kraig Kinser and Sheldon Haudenschild completed the top 10.
Tim Shaffer, Sheldon Haudenschild, Jac Haudenschild and Sweet joined Schatz and Duncan as heat race winners. Clyde Knipp won the C-main and David Gravel captured the B-main.
The night, however, belonged to Schatz and following the race he was crowned king by sprint car legend, "The King" Steve Kinser in the traditional post-race ceremony.
"I was just ecstatic when I heard it was Steve," said Schatz. "He was one of the fiercest competitors you could race with in this sport. He's the icon; he's the guy that paved the way. That's why we have media centers, $50,000 checks and trophies. What he's done over the course of his career is why we all have the prestige that we have today. You never know if you are going to have another one of those opportunities. That was probably the best moment of the night, being able to stand next to him. He let me know he was King one. I love that, because that means that guy still has the fire. He's still the Steve Kinser I remember."
Eldora officials now quickly turn their attention to this week's Eldora Dirt Derby featuring the NASCAR Camping World Truck Series. Tuesday the track will host the Super DirtCar Big Block Modifieds and two Truck Series practice sessions before Wednesday's evening's fifth annual Dirt Derby. The 150-lap Truck Series event is the only dirt race in all of NASCAR's top series.