Tuesday, July 18th, 2017
Three injured in car-trucks accident
By Sydney Albert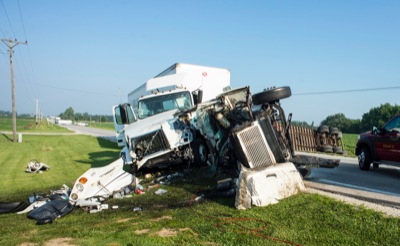 CELINA - A three-vehicle collision this morning at the intersection of State Route 118/Burkettsville-St. Henry Road and State Route 29 has left one driver in critical condition, Mercer County Sheriff Jeff Grey said at the scene.
Officials from the sheriff's office and Celina Fire Department responded at about 8:30 a.m. to a call about a collision between two semitrailers and a car.
According to Grey's preliminary analysis, he believes one semi was westbound on State Route 29 when a gray car traveling northbound on State Route 118/Burkettsville-St. Henry collided into its side. Grey said he had received conflicting reports on whether the woman in the car had run the stop sign at the intersection or not, but either way, he said she failed to yield. The collision reportedly caused the semi to flip across State Route 29, and the cab was then hit by another semi headed eastbound on State Route 29.
The drivers of the flipped semi and the car reportedly were transported to Mercer County Community Hospital by Mercer County Emergency Management Services.
Grey said while the driver of the flipped semi was in critical condition, the driver of the second semi had not been injured. Grey described the car driver as being "alert" when she was transported from the scene.
The names of those involved in the accident had not been released as of press time.