Friday, July 21st, 2017
Mariners ride big inning to victory
Grand Lake scores seven in seventh to extend win streak
By Gary R. Rasberry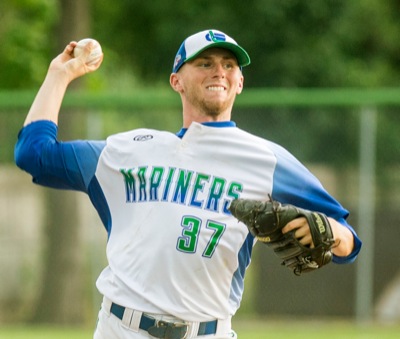 CELINA - Trailing 4-1 going into the bottom of the seventh inning, Grand Lake had three chances to tie or take the lead on Lima remaining in Thursday's contest.
The Mariners chose to take control in the seventh by sending 13 batters to the plate and scoring seven runs to take an 8-4 lead.
Every run proved to be needed as Lima rallied before the Mariners held on for the 8-7 win to extend their winning streak to six straight games at Montgomery Field.
"The games against Lima are always fun," said Mariners skipper Chris O'Neill. "You have to stay up for all nine (innings). Our guys did that. Their guys did that. It's fun when these two competitive teams get together."
The first 6 1/2 innings were quite tame. Grand Lake starter Stephen Morrison, who allowed a run in the fourth, held the Locos hitless until a one-out single by Jaxxon Fagg in the fifth. Jonathan Meuse followed with a single to bring up the aptly-named Ethan Hurt, who took a 1-0 offerring over the fence in right-center for a three-run homer to make it 4-0. Afterwards, Morrison shut down the Locos to finish with nine strikeouts and four hits over seven innings.
"Steve did a great job for us. At one point Lima had one run on no hits," O'Neill said. "Steve was pitching his tail off and worked real hard for us."
The Mariners (19-13) got on the scoreboard in the sixth when Jeff Timko doubled off Loco starter Zach Graveno. After Timko stole second and Tucker Linder grounded out, Nate Ostmo grounded to short to bring home Timko. Chandler Stillings came on to get the last out of the sixth.
In the seventh, Austin Gridley came on to keep the Loco lead, but promptly walked Cole Womack and Nick Emanuel. Loco skipper Brian Garman immediately pulled Gridley and brought on Joe Taylor. Joe Aeilts greeted Taylor with a bunt single to load the bases for Patrick Raiff, who doubled to left to score Womack and Emanuel to cut the Lima lead to 4-3. Timko reached on an error to load the bases for Linder, who singled home Aeilts to tie the game. Ostmo followed with a single to center to score Raiff for the go-ahead run and kept the bases loaded for R.J.Williams, who was hit by a Taylor pitch to score Timko.
The Locos (24-8) changed pitchers again with Jake Posey taking the hill, but Steven Fitzsimmons beat out an infield single to score Linder. Posey finally got the first out with a strikeout to Womack, but Emanuel brought home Ostmo with a sacrifice fly. After Aeilts walked, Josh DeBacker came on to get the final out of the inning.
"The guys went up with the approach to put the ball in play," O'Neill said. "Those are special innings. You need those against a team like Lima."
Damon Egnor came on in relief of Morrison in the eighth and promptly hit Tyler Tolbert. One out later, Australian Jack Barrie blasted a homer to right to cut the Mariner lead to 8-6 before Engor recorded the final two outs.
Egnor quickly got the two outs in the top of the ninth before Meuse doubled and Hurt singled home Meuse to make it a one-run game. Egnor ended the Locos' chance to tie by getting Tolbert to look at strike three to end the game.
"We just asked Damon to go out there and fill up the strike zone," O'Neill said. "When he's challenging hitters, he's in a good position. He did just that. Give (Lima) credit for putting balls in play, but Damon did his job."
Ostmo had two hits and two RBIs for Grand Lake. Williams added two hits.
Meuse and Hurt each had two hits for Lima with Hurt driving in four runs.
The Mariners and Locos wrap up the home-and-home series tonight at Simmons Field. Grand Lake travels to Lorain County on Saturday before the Ironmen come to Montgomery Field on Sunday night.