Saturday, July 22nd, 2017
On target: Moulton Gun Club has exceptional showing at nationals
By Colin Foster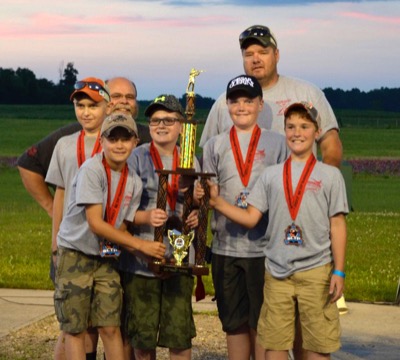 Competitors from 33 states came to take part in last weekend's SCTP Nationals last weekend in Marengo.
The event hosted 255 teams and 2,748 competitors.
And the Moulton Gun Club Youth Shooters proved to be among the best - with several competitors reaching the podium in both the rookie and varsity divisions.
"Extremely, extremely proud of the kids," said Dave Spradlin, the founder and head coach of Moulton Gun Club Youth Shooters. "Some of them had their personal bests. We had some ranked first and runner-up in the nation, which means a lot. I'm really proud of all of our coaches - we've got a great group of coaches and volunteers."
In the rookie division (fifth grade or younger), Moulton's team of Brayden Hoehn, Jordan Landin, Seth Finke and Corbyn Suchland had a runner-up finish in the 16-yard singles trap national competition. On June 19, the same group had taken first at the Ohio State SCTP Championship shoot.
The team was coached by Spradlin and Mack Kuenning. Additionally, Landin took home first-place honors in the high gun handicap competition. For the rookie division, handicap is shot from the 19-yard line.
Two members from Moulton received honors in the varsity division, which is composed of freshmen through seniors. Evan Barr earned All-Ohio SCTP honors at the state competition. The top five scores in the state from each competition scored. The team went on to compete against teams from all across the country and placed first at the national competition, defeating Iowa and Pennsylvania for the title.
Rodd Spradlin made the NRA SCTP All-Scholastic team for the second straight year and also tied for first place in the national doubles trap event.
Moulton Gun Club is composed of 30 youth shooters from around the area, ranging from grades four through 12. The team practices once a week for 10 weeks and attends four competitions per year. This year's performance at nationals was the squad's best ever, coach Spradlin said.