Wednesday, July 26th, 2017
Celina vet lauded for service on commission
By William Kincaid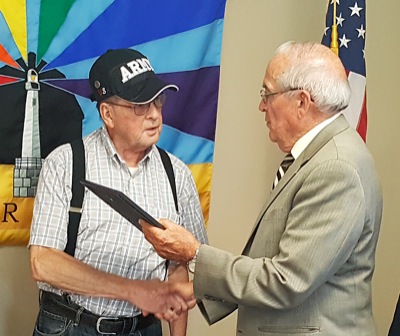 CELINA - Surrounded by family and county officials, James Rhodes of Celina on Tuesday afternoon was publicly honored for serving 22 years on the Mercer County Veterans Service Commission.
County commissioners Rick Muhlenkamp, Jerry Laffin and Greg Homan presented a proclamation recognizing Rhodes for helping meet the needs of local veterans by serving on the five-member commission for more than two decades.
"Mr. Rhodes has shown an unwavering dedication to meeting the needs of Mercer County veterans and ensuring that they have the best possible resources available to them," the proclamation reads. "We are pleased and honored to have this opportunity to show our appreciation to James Rhodes for his steadfast devotion and commitment to the veterans of Mercer County."
They were joined by Mercer County Common Pleas Court Judge Jeffrey Ingraham and Mercer County Veterans Service Officer Tom Risch.
Rhodes, 87, was in the U.S. Army from 1948-1952, entering when he was 18.
"It was quite a ride," he said.
He said he served in the Korean War from July 1950 to 1951. He's retired from Mersman's Furniture factory and due to health issues, recently left the commission, on which he had represented the Celina American Legion.
"(He's) one of the finest commissioners I've had on the board in 29 years of service," Risch said.
"I tried to do what I thought was right," Rhodes said.
"You served very well," Ingraham replied. "You're going to be missed because of your humble and gracious leadership and wisdom that you imparted on your fellow commission members. We thank you for your service, once again."
Established under Ohio law in 1886, Veterans Service offices in all 88 counties offer aid to veterans, their spouses and dependents. Services include transportation for medical treatment and assistance in filing claims, paying rent or utility bills for financial hardships and helping with education benefits.
The office is overseen by a five-member commission represented by local veterans services organizations and an at-large member. Members, who serve staggered five-year terms, must be honorably discharged veterans appointed by the common pleas court judge, according to Risch.
"They are actually in charge of all the operations of the office," he said. "They are the appointing authority for the office staff, myself included, and they meet once a month and go over all the activities that we did the previous month, the emergency financial assistance and anything else that we did."
Commission members have great responsibilities, Risch said.
"Last year my office brought an excess of $14 million in VA benefits into Mercer County, and they are very much responsible for that as well," he said.
All of the commissioners who have come and gone over the years, with very few exceptions, have been wonderful, dedicated people, Risch said.
"Jim is at the top of that list. His leadership, his dedication - it's unwavering," he said. "He's an amazing man."
The work of the commission many times goes unrecognized publicly, Ingraham said during the ceremony.
"It's not something that a common pleas judge does that gets much attention and probably should not simply because much of the commission's work is to serve veterans without bringing publicity to the veterans and what their needs are," Ingraham said about making appointments.
Many veterans have pride and humility and may have difficulty seeking assistance, especially in the local culture of self-reliance, Ingraham noted.
"For that kind of information to be publicized probably would go against the grain and not allow veterans who otherwise would want to seek assistance, who deserve assistance, they may not apply for it," he said.
However, Ingraham had no problem casting the spotlight on Rhodes, whom he said brought wisdom, experience and character to the board.
"When I found out he was retiring at this point in time, I thought, 'this is just not right that this goes by without at least acknowledging what he has done and what the commission does,' " he said. "The monthly work of the commis- sion to help our veterans take care of some needs that they and their families have is truly important."
The commission today consists of Tim Binkley, Vietnam Veterans of America; Terry Kremer, American Legion; Charles Howell, Veterans of Foreign Wars; Tom Leininger, Disabled American Veterans; and Darrell Willrath, an at-large member.