Monday, July 31st, 2017
Knapp, Simon repeat as champs
By Gary R. Rasberry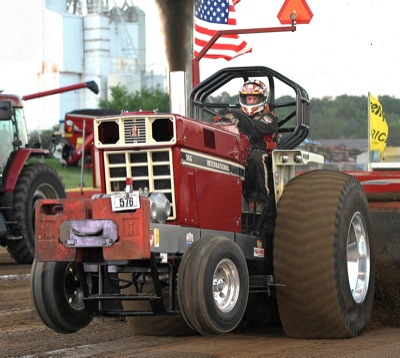 Compiled by Gary R. Rasberry

Chuck Knapp and Brandon Simon completed weekend sweeps of their classes as the NTPA Fort Recovery Grand Nationals concluded on Saturday night at Ambassador Park.
Knapp drove "Screamin' D" to victory for a second straight night in the 8,000-pound Unlimited Modified Tractor class with a top effort of 329.460 feet. Kevin Criswell and "Blown Centless" were second at 312.570 feet and Dave Richardson drove "For Sale" to third with a top pull of 299.135.
Simon drove "Simon Sez Show No Mercy" to victory in the 6,000-pound Light Unlimited Modified Tractor class on Friday. Saturday, Simon took "Simon Sez," which finished second on Friday, to victory in a four-way pull off after the top four recorded full pulls. Simon won the pull-off with a top effort of 313.700 feet. Keith Wayson Sr. and his "Super Bee" were second at 308.080 feet with Craig Corzine and his "Money Pit Screwed Up" taking third at 307.955 feet.
In the 9,500-pound Limited Pro Stock Tractor Class, Henry DeBuisseret won with "Hardcore Addiction" with a top pull of 327.205 feet. Justin Wagner and his "Real Deere" were second at 322.770 feet and Brad Boldry and "Smoke Fever" placing third at 306.835 feet.
Don Bowling and "Pulling For the Cure" won the 7,500-pound Super Stock Diesel 4x4 Trucks class after having won a pull-off against Joshua Deeter and his "Up in Smoke" after the two full-pulled. Bowling won 322.940 feet to 313.460 feet. Matt Clemons and "Alter Ego" finished third at 329.940 feet.
Mike Palmer earned two places in the 8,500-pound Light Pro Stock Tractor class after winning with "Red Avenger Classic" with a top effort of 315.530 feet. Greg Lamb and "Black Viper" were second at 314.260 feet with Palmer and "Red Avenger" taking third at 312.895 feet.
In the 2,050-pound Open Modified Mini Tractor class, Larry Koester won with "Footloose" after a top pull of 312.620 feet. Jason Hathaway and his "Honkin' Donkey Gray" placed second with a top effort of 310.925 feet and Adam Bauer drove "Iron Toy" to a third-place finish at 306.765 feet.