Thursday, August 3rd, 2017
Grey renews effort to curb heroin crisis
Deputies going door-to-door
By William Kincaid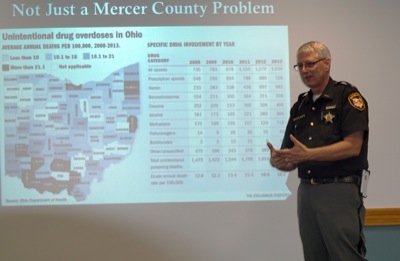 CELINA - Mercer County Sheriff Jeff Grey is reviving a campaign to spotlight potential drug activity in targeted neighborhoods and encourage tips from the public.
Grey, while addressing the ongoing local heroin problem on Wednesday night as part of the Mercer County District Library's adult summer reading program, revealed that his deputies on Friday will place informative hangers on doors in various neighborhoods where drug activity is suspected or known.
"Take a good look at those because if you see one of those on your door, that means we think that there's drug activity in your neighborhood," Grey said about the program that was last used about a year ago.
Deputies will attach up to 350 hangers in areas in Celina and Rockford.
"We'll go to other communities later on," Grey told the newspaper afterward. "Sometimes it's a manpower issue."
The pink hangers list on one side possible signs of drug activity: heavy foot or vehicle traffic at a particular location for a very short time, discarded needles, unusual smells and regular activity during late hours.
The public can report suspected drug activity by calling the sheriff's office at 419-586-7724 or through Facebook.com/mercer sheriff.
Anonymous tips can be left at mercercountysheriff.org.
But Grey emphasized that society cannot simply arrest its way through the drug epidemic.
The hanger's flip side contains information about getting help for drug addiction.
"So, if we happen to hang that heroin hanger on the door of somebody that has a drug problem, here's resources for them where they can get help," Grey said.
"You can't help somebody that doesn't want help, but we're going out and we're trying," Grey said.
Grey also pointed out other ways in which his office is reaching out to people with drug problems. A rapid-response team consisting of an EMS responder, deputy and Foundations Behavioral Health Services counselor within a week will knock on the door of a person who had received the overdose reversal drug Narcan. Grey said they try to persuade the person to enter treatment and offer information about Medicaid to those who can't afford the services.
But not everyone takes the team's offer.
"We've had two people this year that we made contact with that said, 'I know I should do this, but I don't think that you can save me, and I know it's going to kill me,' " Grey said.
Both are now dead, Grey said to audible gasps.
"The fact that people are dying is not stopping people from using (heroin) because I think it is that powerful of a drug," Grey said, pointing out heroin alters the brain.
Some critics believe he's doing too much to help drug addicts, Grey noted. He dismissed those concerns.
"Keeping people alive is more important than making an arrest. It's more important than a conviction," he said. "And I also say, 'That's somebody's son, daughter, mother, father, and I think we got to have a heart and we got to try."
For those who think drug users aren't facing stiff enough consequences in Mercer County, Grey said judges must follow state law when issuing sentences. Possession of heroin is a fifth-degree felony, Grey said.
"If the judge throws the book at you, the most he gives you (is) a year in prison," Grey said.
Further complicating the matter, state officials are pressuring judges not to send people to prison to reduce overcrowding, Grey said. They're also pushing for fourth- and fifth degree felons to be incarcerated in county jails, Grey asserted.
"So the state's fixing their problem by pushing it down to the county jails," he said.