Friday, August 4th, 2017
Pollinator project is a blooming success
By Sydney Albert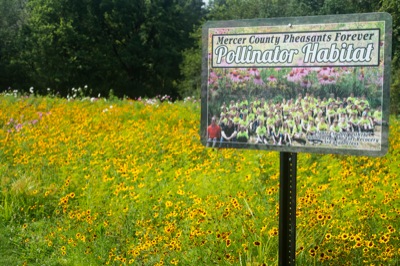 FORT RECOVERY - Residents are enjoying the color and wildlife drawn in by Community Park's pollinator habitat, which Mercer County Pheasants Forever and Fort Recovery third-graders helped plant earlier this year.
The half-acre lot that had been an empty stretch of lawn is full of color and butterflies thanks to MCPF and the classes of Sandy Raffle and Kimberly Pohlman. MCPF Vice President Bill Knapke said partnering with school and village personnel on this project was a natural fit.
"At the national level, we've seen other projects like this done in coordination with a school," he said. "So we thought that this was just a good opportunity, and Fort Recovery was developing this walking path and such, and so it made for a good location to do it."
MCPF members came up with the idea for a pollinator habitat last fall, Knapke said, and pitched it to village officials. They approved and seeds and plants were ordered during the winter. The habitat will be maintained entirely by volunteers from the organization.
Raffle said she had been first asked about getting involved by another Fort Recovery teacher, Lori Acheson, whose husband, Mike, is the MCPF president.
"It fits perfectly with what we teach in the spring. It's ideal," Raffle said.
Raffle and Pohlman took their students to the park in the spring, when they were learning about plants and plant life cycles. The MCPF had set up three stations for the kids, letting them play different games to teach them about the role of pollinators. While they were there, the students also helped plant flowers and spread seeds on the lot.
Now, anyone visiting Community Park or walking the Paul Staugler Recreational Trail can see the fruits of their labors. Cosmos, plains coreopsis, black-eyed Susan, crimson clover and blazing star flowers are in bloom, attracting butterflies and bees, which was the goal.
"People have become much more aware of how important all of those types of insects and things are," Knapke said. "The butterflies and the monarchs have gotten a lot of attention. … There's some diseases that have caused a decline in the number of bees and this improves their habitat."
Raffle said the habitat would probably continue to be used by her future classes. When the children are learning about the anatomy of flowers and plants, Raffle will take them to the park to see firsthand how the different parts grow.
Knapke said the habitat might provide an opportunity to work with the Fort Recovery FFA chapter's wildlife judging team as well. The field could be used to practice wildlife identification, and if weeds need to be managed, that could serve as another FFA exercise.
MCPF chapter members would have no problem working with other local school groups to create similar habitats, he added.
"If there's other schools that would be interested in doing something along these lines, they could get a hold of us," Knapke said.