Saturday, August 5th, 2017
Celina native uses hobby as force for good
By William Kincaid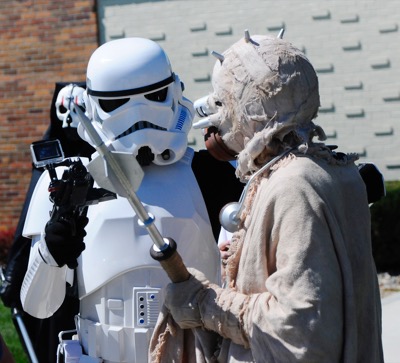 CELINA - Ever since Kurt Ramsey as a young boy was given a birthday cake decorated with little Star Wars action figures, he's been hooked on all things linked to the beloved movie franchise.
Decades later, Ramsey, a Celina native and mechanical engineer for global researcher Battelle, regularly turns himself into a life-size version of one of those toys by donning the helmet and armor of a stormtrooper.
Ramsey, 43, is a member of the Ohio Garrison of the 501st Legion, an international club of Star Wars enthusiasts committed to building and wearing costumes that look just like the outfits seen in the movies.
Also known as "Bad Guys Doing Good," members nationwide are closing in on having raised a million dollars for charities.
"It's not a club that gets together for themselves," Ramsey told the newspaper while in town last week for Lake Festival. "They organize for the charity side of it ... because that's the only real purpose."
Nine Ohio Garrison members came to Celina last week to help Grand Lake Rotarians raise funds for their international charity, posing for pictures with the public and walking in the parade. Ramsey's father, Richard, a local dentist, was deputized as Tusken Raider - but just for the day.
While they've shown up on Star Wars Day at Cincinnati's Great American Ball Park and Cleveland's Progressive Field and at comic book conventions, members usually go to places where folks are raising money for a good cause, whether it be a small Boy Scouts gathering or an urban hospital.
"It's a little bigger with the people in the hospitals but it doesn't make a difference," he said. "When you know that they don't know who you are and you're brining a minute of joy to somebody just because you're there? That's the reason (I do this)."
Though a lifelong collector of Star Wars toys, comic books and all things nerdy - long before such pursuits were in vogue - Ramsey said he never really had the desire to get into costumes. But when he saw that company ANOVOS was taking orders for stormtrooper uniforms at a one-time-only price in May 2015, he made the leap to the dark side.
The costume arrived in pieces that Ramsey assembled over three months using a rubber adhesive. The suit met the strict standards of the Ohio Garrison.
Ramsey, who calls himself a visual person, had long been drawn to the pristine white of the stormtrooper outfit.
"It's the most attractive and it's also a very popular one," he said. "Obviously Darth Vader is the most popular and then like Boba Fett is a good second."
So far, Ramsey has shown up as stormtrooper at 25 events.
"I have a voice box that has an amplified speaker that has some clicks and things in it to sound like a stormtrooper," he said.
The Ohio Garrison consists of people from all walks of life -a NASA space engineer, artists, academics, 9-5 types, college students, police officers and ex-military members, Ramsey said. They also range in age up to mid-70s.
"They make good Obi-Wan Kenobis," he said about the older members.
He plans to keep on attending events as long as it doesn't take away from his wife, Kathy, and two teenage daughters.