Tuesday, August 8th, 2017
Mariners lose close one
GLSCL Championship Series - Game Three
By Colin Foster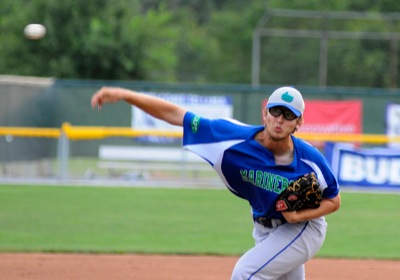 LIMA - Colin Gossard walked off to a standing ovation from the Simmons Field crowd after 8 1/3 innings of shutout baseball.
Two outs later, the Lima Locos celebrated on the field to a standing ovation after claiming their second Great Lakes Summer Collegiate League championship in three years.
Gossard, who played his high school ball at nearby Bath, allowed three hits, struck out 10 and walked just three, Ross Adolph hit a two-run double in the fifth, and the Locos defeated the Grand Lake Mariners 3-0 in the winner-take-all Game Three on Monday night at Simmons Field.
"We knew it was going to be a tight one," Grand Lake coach Chris O'Neill said. "We wouldn't have had it any other way, whether it was in our favor or their favor. Both teams did a great job tonight. I'm proud of the way our guys played. It was a phenomenal finish."
The Locos rallied back from a 1-0 series deficit by shutting out the Mariners for 18 straight innings (Chase Burks pitched scoreless into the ninth for Lima on Sunday night to help even the series).
"They're going to always have good pitching," O'Neill said. "That's what wins in this league. Give credit to them. But at the end of the day, we gave our best out there."
It was a pitchers' duel most of the way between Gossard and Grand Lake's Braden Niksich, who pitched seven strong innings, striking out eight, walking six and giving up three hits.
Niksich successfully worked out of jams in the first and third, but couldn't keep Lima off the scoreboard in the fourth. After walks to Will Kilgore, a single to J.T. Thomas and another walk to Stephen Dobbs, Ross came through with a two-out, two-run double to right.
In the eighth, Kilgore scored an insurance run on a wild pitch afterhaving walked to open the inning.
Gossard, who pitches collegiately at the University of Findlay, retired the side in four innings and kept the shutout even with the Mariners threatening.
Grand Lake left seven runners on base, three times with players in scoring position.
"(Niksich) pitched a great game. He did everything he could to help us win," O'Neill said. "If we got a little bit of offense for him, I think he would have been in the driver's seat. We had opportunities. We just didn't take advantage of them."
It was the fifth title in franchise history for Lima, which finished the season with a record of 34-12.
Grand Lake, making its first finals appearance since 2006, was denied its fourth title. The Mariners ended the year 27-22.
"I'm not surprised that we made it this far," O'Neill said. "It feels really good to be in this position, to have come so close. I feel nothing but gratitude for this opportunity to be here. It was a magical season. Regardless of what the outcome was, it doesn't take away from the fact that all these guys came here this summer and they got better. We're sending these guys back healthy and they're going to be prepared for the fall. That's the ultimate goal. We achieved that. All of this was just gravy, and it was a lot of fun."
Grand Lake's Joe Aeilts was the only player from either side with multiple hits, finishing 2-for-4 with a double.
Joe Gahm earned the save for Lima.