Thursday, August 10th, 2017
Final steel beam lifted into place for hospital expansion project
American flag, small tree top off girder
By Sydney Albert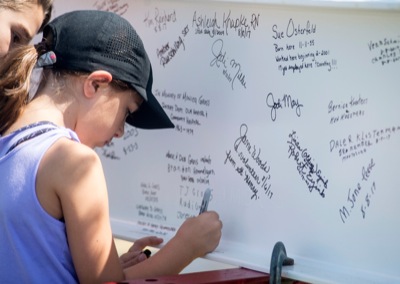 COLDWATER - Mercer County Community Hospital officials marked a milestone in the construction of the west wing expansion project on Wednesday with a topping-off ceremony as construction workers placed the final steel beam of the structure along with an American flag and a small evergreen tree.
According to Larry Weigand of Weigand Construction, topping-off ceremonies in Western culture are a construction tradition with ancient roots, believed to have come from Scandinavian traditions. As part of their pagan beliefs, a tree was placed at the highest part of a manmade project. In modern times, a tree and a flag usually accompany the final steel beam as it is lifted into place and remain there until the project is finished.
The final beam for the project had been painted white and made available at select times over the past week for hospital staff and community members to sign. Before it was lifted into place on Wednesday, the beam was covered with the signatures of people who had been born in the hospital or whose children had been born there. Smiley faces, hearts and expressions of love for neighbors and the community were scribbled onto every available space.
George Boyles, senior vice president and chief financial officer of Mercer Health, jokingly said even celebrities such as Tom Brady, Eli Manning and Cinderella had stopped by to sign the beam.
"Thank you for leaving your mark and a part of your heart at Mercer Health," Mercer Health CEO Lisa Klenke said during the ceremony.
The ceremony was held on Day 85 of construction. Mercer Health officials announced in January 2016 their intention to build the west wing expansion. The project is estimated to cost about $24 million, and officials say construction is on schedule.
Boyles said the next steps will be pouring the concrete slabs on each floor, which he estimated will take two to three weeks. Officials hope the sides and roof of the structure will be done by fall so workers handling utilities can work inside a controlled environment in the colder months.