Saturday, August 12th, 2017
Concert features country tunes, rockin', romance
Couple engaged during opening act at fair show
By Colin Foster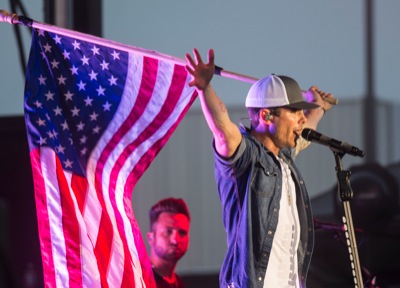 CELINA - The night had great music and dancing - and even a little romancing.
The Grammy-nominated Brothers Osborne and Granger Smith rocked the stage at the Mercer County Fairgrounds on Friday, providing fans with one of the best shows at the venue in recent memory.
The highlight of the night came during Smith's opening set, when the singer from Texas called to the stage a young couple from Indiana, Sam Bickel and Sarah Heitkamp.
Bickel got down onto one knee and proposed to Heitkamp on stage during the playing of Smith's hit song "Happens Like That," and he received the answer he wanted. Smith congratulated the couple and posed for a selfie on stage.
Bickel hails from South Bend, Indiana, and Heitkamp is from nearby Jay County, Indiana. Bickel began the process of contacting Smith's representatives in April before finally getting the OK for Friday.
"It was really cool being that close, and she didn't expect it at all," Bickel said. "She was really confused once we started walking out on stage, so I knew I had her fooled, but in a good way."
"I was really surprised," Heitkamp said, still shaking with emotion from the experience. "I mean, we had a Granger Smith song as like one of the first songs we listened to together. So that worked out so perfectly. ... Oh my gosh, I can't breath."
Smith had fans waving their hands - and boots - in the air with his set list, which included his hits "If the Boot Fits," "Backroad Song" and "Happens Like That," along with covers of Tom Petty's "Free Fallin' " and Garth Brooks' "Ain't Going Down."
He also rocked out and drank beer on stage as his popular alter ego, Earl Dibbles Jr, closing the set with Dibbles' popular viral hits "MERICA" and "Country Boy Song."
The Brothers Osborne - last year's CMA and ACM vocal duo of the year - played their hits and mixed in some classic country songs, as well.
John and T.J. Osborne's set list included popular songs from their debut album "Pawn Shop" "21 Summer," "Heart Shaped Locket," "Stay a Little Longer" and current hit "Ain't my Fault."
The duo also did their rendition of Alan Jack's "Chattahoochee" and Hank Williams' "Hey Good Lookin.' "
The Brothers Osborne headlining act drew fans from all over Mercer County and the state. Twenty-five-year-old Columbus resident Emma Nimps was one of them, and she said the trip was definitely worth it.
"I came here from Columbus because I love Brothers Osborne and I was not disappointed," said Nimps, originally from Lima. "It was a really great concert and I'm so glad I came. They're such talented musicians."

Fair schedule:
Today
• noon - straw stacking, mule and running races
• 1 p.m. - rides and games begin; country horseshoe tournament class A & B; baby contest, 0-3 months
• 2 p.m - 19th annual pie contest
• 4 p.m. - 19th annual pie auction
• 4:30 p.m. - tough truck
• 5 p.m. - Mercer County Fair Princess contest (ages 19 months-3 years); Wee Miss Mercer County Fair (ages 4-7 years); Mercer County Fair Prince contest (ages 19 months-3 years); Wee Mr. Mercer County (ages 4-7 years); market lamb and breeding sheep show
• 6:30 p.m. - dairy pee wee showmanship
• 7 p.m. - Celina High School Dance and Cheer performance; Tug-a-Truck; dairy showmanship
• 8 p.m. - Southern Rock Superstars

Sunday
• 7 a.m. - Revive Mercer County
• 8 a.m. - gates open, admission charged
• 9 a.m. - invitational horseshoe pitch round robin tournament class B & C; open horse pleasure show
• 9:30 a.m. - patriotic rosary
• 10 a.m. - open poultry show
• 10:30 a.m. - nondenominational church service
• 11 a.m. - weight market rabbits
• noon - sheep showmanship
• 12:30 p.m. - harness horse racing; rabbit market pens and showmanship
• 1 p.m. - rides and games begin; demonstration contest
• 1:30 p.m. - invitational horseshoe pitch round robin class A; pee wee showmanship
• Approx. 1:30 p.m. - open market lamb show (after showmanship)
• Approx. 2:30 p.m. - open breeding sheep show
• 4 p.m. - Jane Stachler religious experience
• 5 p.m. - Rise worship; Boer goat breeding show, market goat show, goat showmanship
• 5:30 p.m. - modeling revue practice
• 6:30 p.m. - Cloverbud, foods, special-interest modeling revue
• 7 p.m. - worship service
• 7:30 p.m. - open dairy show; Anthems and Alibis band in beer garden; clothing modeling revue
• 8 p.m. - "Grace before Meals" with Father Leo

Monday
• 7 a.m. - Revive Mercer County
• 8 a.m. - gates open, admission charged
• 9 a.m. - horse contesting show
• 10:30 a.m. - nursing home lunch, activities
• 1 p.m. - minute to win it games
• 2 p.m. - floral judging (second show)
• 3 p.m. - K-9 demonstration
• 4 p.m. - rides and games begin; New Outlook
• 4:30 p.m. - dairy goat and other non-market breeds show and showmanship
• 5 p.m. - New Outlook
• 6 p.m- harness horse racing; beef show
• 7 p.m. - drugs in Mercer County presentation by Sheriff Jeff Grey
• 8 p.m. - animal-calling contest with New Bremen's Lilly Wilker of NBC's "Little Big Shot"
• 9 a.m. - Horse contesting show; swine show
• 4:30 p.m. - dairy goat and other non-market breeds show and showmanship
• 6 p.m. - beef show