Monday, August 14th, 2017
Cowboys and trucks take center stage at the fair
By Tom Stankard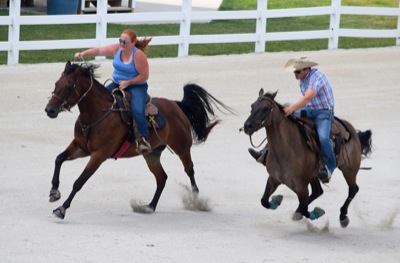 CELINA - Attendees of the 165th annual Mercer County Fair welcomed cowboys, mules, horses and pickup trucks to the track on Saturday afternoon.
Fairgoers returned to the grandstands after the Brothers Osborne concert the night before for some racing action. Mule and horse racers competed in four races each around the half-mile track. With no rain in sight, racer Jason Crist said the track was ideal for racing.
After the final horse race, the jockeys competed in a grudge match to see who had the fastest horse.
Speeding down the homestretch and kicking up plenty of dust, Eder ridden by Bridget Wessel took first place, followed by Jericho, ridden by Crist.
The two then took to the track one more time, going neck-to-neck from the start. Speeding toward the finish line, Wessel's horse took first place by a nose.
Enjoying her victory beside her horses, Eder and Cash, Wessel said she felt "good out there."
"I've been riding since I was 2," she said, smiling. "It's fun, relaxing and my passion."
Usually Wessel competes in barrel racing but said she also enjoys competing in distance races.
"I like the adrenaline of barrel racing, and (I've) never done a race like this before. It felt pretty good," she said, adding she's had both horses for three to four years.
Standing beside his mule, Electric Zap, Crist said competing felt like "a pure adrenaline rush." He has been riding since he was little and his passion for equines "runs through his veins."
"There's nothing like it. Once it's in your blood, it's in your blood," he said.
Horses and mules then gave way to pickup trucks for a straw stacking contest.
The object is for teams of three to stack 40 hay bails into the bed of the truck, race around the track and then unload their cargo. The team with the quickest time wins.
Out of eight teams, the team of Mark Wuebker, Eric Wuebker and Jon Pottkotter won with a time of 2 minutes, 28 seconds.
Eric Wuebker said he has been competing in similar events for 10 years and it felt awesome to win.

Fair schedule:
Today
• 6 p.m- harness horse racing; beef show
• 7 p.m. - drugs in Mercer County presentation by Sheriff Jeff Grey
• 8 p.m. - animal-calling contest with New Bremen's Lilly Wilker of NBC's "Little Big Shot"

Tuesday
• 7 a.m. - Revive Mercer County
• 8 a.m. - gates open, admission charged
• 10 a.m. - beef showmanship; beef judging contest (one hour after showmanship concludes)
• 11 a.m. - Senior citizens lunch and activities (age 65 and up); New Outlook; alpaca show
• noon - registration deadline for showman of showman contest
• 12:30 p.m. - senior citizens queen and king contest
• 1 p.m. - scavenger hunt
• 2:30 p.m. - New Outlook; Rhonda Hager painting demonstration
• 3:30 p.m. - Senior citizens bingo
• 4 p.m. - rides and games begin
• 5 p.m. - New Outlook; Ralph Stuckman, clay demonstration; sidewalk chalk contest
• 6 p.m. - veterans ceremony; open swine show; men, women, pee wee swine showmanship