Wednesday, August 16th, 2017
Not your average day in practice
Minster graduate Eli Wolf awarded scholarship Tuesday
By Gary R. Rasberry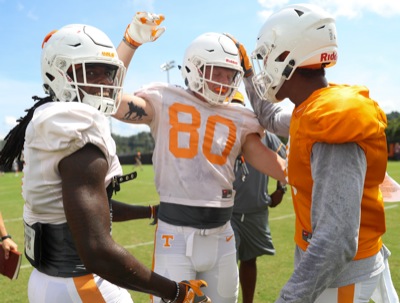 Tuesday started out like any other day for Eli Wolf.
The University of Tennessee redshirt sophomore tight end and 2015 graduate of Minster High School went through his preseason workouts just as he has every day since joining the Volunteers' football team.
Then, head coach Butch Jones called for a drill called the "Circle of Life" where two teammates engage in a blocking drill while encircled by coaches and teammates cheering them on.
Jones called Eli into the drill against older brother Ethan, a starting tight end for the Vols and a common drill partner.
But just before the two began, Jones stopped the drill and informed Eli that he was being awarded a scholarship for the rest of his college career with the Volunteers.
"Total surprise," said Eli via telephone after team meetings on Tuesday night.
"I didn't know what to do, think or say. All my teammates were around me. It meant the world to me. It was a surreal experience. I couldn't describe the feeling"
Video of Jones' presentation and the celebration were online and received numerous replays on social media
Eli Wolf joined the Volunteers in 2015 as a walk-on. After redshirting his freshman year, Eli Wolf appeared in six games last season for the Volunteers and recorded his first college catch last November against Tennessee Tech.
For this upcoming season, Eli Wolf shifted to a tight end, with hopes that in some offensive sets, he and older brother Ethan will line up together.
"It's been huge having Ethan here," said Eli, who said he wasn't sure if Ethan knew beforehand. "I like to think that I am pretty self-motivated, but if I ever needed a little kick or push, he's there. That's important to have someone who can push your buttons and really cares. ... It's been beneficial for both of us.
"I'm excited for the season. Hopefully you'll see me and Ethan on the field at the same time. We have high expectations for ourselves this year. ... I know we're capable of being a good football team."
Eli credits Jones and the Volunteer coaching staff for helping him get to this point.
"They accepted me with open arms when I got first there," said Wolf. "Our position coach and offensive coordinator, coach (Larry) Scott, is a really down to earth guy and cares about his players. He's really taken the lead role in helping me develop and morph into the person I am today. He's always pushing me and Ethan to be at the top of our game."
Even though he is now on scholarship, nothing has changed for Eli Wolf. His focus will continue on helping the Volunteers have a successful season.
"My mindset hasn't changed," Wolf said. "I'm still the hungry and competitive guy I was when I was a walk-on."