Friday, August 25th, 2017
Service with a smile
Parkway serves up 18 aces in season-opening win over Bradford
By Gary R. Rasberry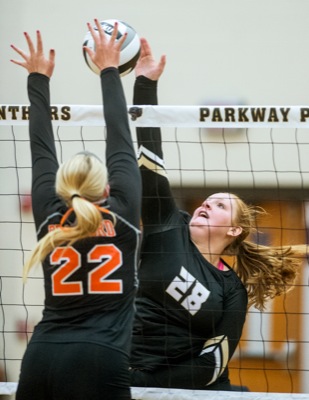 ROCKFORD - Parkway volleyball coach Jordan Henkle said after Thursday's season-opening match that aggressive serving will be a key to his team's success.
The Panthers served up 18 aces as they opened the season with a 25-6, 25-9, 25-11 win over Bradford at Panther Gymnasium.
"I was happy with the serving," Henkle said. "(We have) a lot of new girls on the varsity this year, a lot of young ones. The way we're going to win this year is good aggressive serving as much as possible and good serve receive. We had both of those tonight."
Bradford led 2-0 early in the first set, but Mackenzie Sipe rattled off five straight points to help put Parkway up 6-2. Grace Rogers followed Sipe's service run with nine straight points, including three aces that put the Panthers up 16-3. Parkway needed just four service rotations to win the opening set as the Railroaders were held to just seven total serves in the opening set.
The Railroaders hung around a little bit in the second set and were up 7-5 at one point before the Panthers went to work. Haley Hawk gave Parkway a brief 8-7 lead before Bradford tied it again, but Parkway got the sideout and put the game away thanks to 10 straight points served up by Izzy Strunk, including a trio of aces, to make the score 19-8. The Railroaders managed just one more point before Kris Kirby served out the final five points with the final two points coming on aces.
Bradford took early leads of 2-0 and 5-3 before Parkway caught fire in the third set. Kirby served up four straight points and then McKenna Johnson added six straight points to make it 20-8. The Railroaders could draw no closer than 10 points the rest of the way as Rogers appropriately aced on match point.
Parkway did some hitting to go along with its solid serving. McKenna Temple had eight kills and Sydney Crouch, playing in her first varsity match, added seven kills and three blocks.
"We basically have just one hitter from last year with Grace Swander being out (due to injury)," Henkle said. "We're just trying to find the court and keep it inbounds. We're not going to get a ton of kills every night, but we need to get as many as we can.
"Sydney hasn't played (volleyball) since she was in eighth grade. She's a great athlete. ... She'll keep getting better as the year goes along."
Strunk and Rogers had five aces each on the night. Rogers also had 14 assists.
Parkway (1-0) returns to action on Saturday it hosts the Panther Invitational starting at 9 a.m.