Saturday, August 26th, 2017
Cavs hold off Wildcats
By Dave Stilwell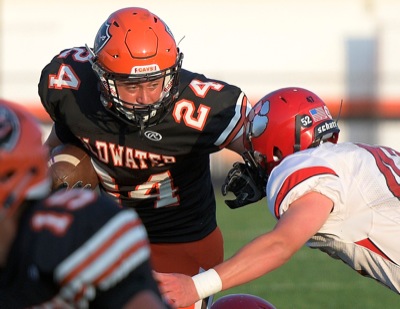 COLDWATER - It was a game Coldwater had seemingly tucked into its back pocket on several occasions.
Instead the Cavaliers needed to break up a last-second pass play to preserve a 35-28 victory over Kenton on Friday night at Cavalier Stadium.
Faced with a three-touchdown second half deficit, Kenton combined some big plays with some big Coldwater mistakes to make things interesting.
"We did the same thing last year against Kenton," Coldwater coach Chip Otten said. "We jumped on them early, got up, then gave up a couple big plays. You know they're going to make big plays. That's how they make a living, and they've done it for so many years."
Trailing 28-7 to start the second half, Kenton got a break on its first possession when a fourth-and-10 incompletion turned into a first down thanks to a defensive holding penalty on the Cavaliers.
Five plays later, Kenton quarterback Jaron Sharp connected with Jayden Cornell from nine yards out for a touchdown. A Bryce Ellis extra point kick trimmed Coldwater's lead to 28-14 with 4:25 left in the third quarter.
But the Cavaliers responded with an impressive drive, marching 64 yards in 13 plays capped off by a Ben Wenning three-yard touchdown run.
Blake Dippold's extra point kick gave the Cavs a 35-14 lead with 10:17 left in the game and sent more than a few fans to the parking lot looking to beat the postgame traffic.
However, the Wildcats answered on the very next play from scrimmage. After a steady diet of screen passes in the second half, Kenton's Alex Stephens surprised the Coldwater secondary with a deep crossing route. Sharp hit him in stride and Stephens outraced everyone to the end zone for a 76-yard touchdown.
It appeared Jacob Wenning was going to return the ensuing kickoff for a touchdown, but instead a block-in-the-back penalty brought back the ball inside Coldwater's 10-yard line.
"That was a 97-yard penalty," Otten said. "Obviously, we had way too many of those mistakes tonight."
Deep in their own territory, the Cavaliers were unable to move the ball. Standing in his own end zone, punter Jacob Wenning nearly had the snap go over his head.
He leaped high and scrambled to avoid some would-be tacklers and ended up getting off a minus five-yard punt, giving Kenton the ball at the 10-yard line.
Two plays later, the Wildcats scored on a five-yard pass from Luke Baird to Landon Rush and with 6:59 left in the game Kenton was trailing by just seven points.
Otten figured his best bet down the stretch was to run the clock out, and Coldwater followed with 11 consecutive running plays.
The Cavs pushed the ball down to the Kenton five-yard line where on fourth down the Wildcats were forced to call their final time out with 54.6 second left.
"That was a tough decisions," Otten said. "Should we go for it, should we kick the field goal."
Dippold, a sophomore who was 5-for-5 on extra points for the game, lined up for a 22-yard game-clinching field goal attempt that sailed just wide of the left upright.
"We missed the kick and that gave them some life, but Blake hit it very well, he just missed it by a little bit," Otten said.
With no timeouts, Kenton scrambled for two first-down completions and a 13-yard run to get the ball to the Coldwater 38-yard line with 3.3 seconds left.
But Sharp's desperation pass from there was broken up as time ran out.
Kenton scored the game's first touchdown with some trickery. Sharp threw a swing-out pass to Trent Reichelderfer well behind the line of scrimmage. Reichelderfer pulled up and launched a 68-yard touchdown pass to Rush, who had gotten wide open behind the Cavalier secondary.
Coldwater responded with 28 unanswered first-half points.
Senior quarterback Sam Broering completed a 55-yard drive on the Cavs' next possession with a 20-yard touchdown pass to Jacob Wenning, who sidestepped a few Wildcat defenders inside the five-yard line to find the end zone.
Brad Giere scored a touchdown on offense with a one-yard burst and then scored on defense when he scooped up a Sharp fumble and raced 30 yards to pay dirt.
The Cavaliers added one more score just before the end of the half on a scrambling 19-yard run by Broering.
"It was a good battle, and a good learning experience for a lot of guys that haven't been in that position before," Otten said. "We got into a tight ball game, and I think we learned a lot."
The Cavaliers wrap up their non-league schedule next week on the road against a highly-touted Clinton-Massie team.