Monday, August 28th, 2017
Oh, so close
St. Marys salvages draw with Coldwater with late goal
By Colin Foster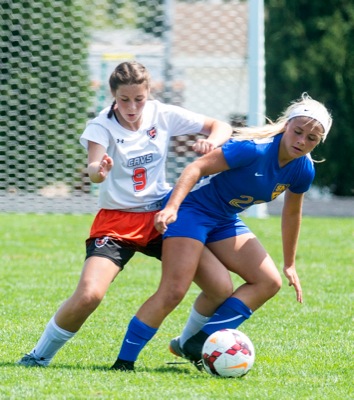 COLDWATER - The Coldwater girls soccer program has never beaten St. Marys before.
The Cavaliers were so, so close to changing that on Saturday.
Lilly Ankerman scored off a corner kick with 30 seconds to play to salvage a 2-2 draw for the Roughriders at Cavalier Stadium.
"Yes, we were on the verge of winning. The last goal was heartbreaking, but we still didn't lose," Coldwater coach Lisa Brackman said. "I just told them that I'm proud and we have some things to work on and we're going to continue to push. We're changing this program and we're going to continue to fight.
"This game was a positive, because everything we've worked for in the last month just shined through."
Coldwater was outshot by double digits, but it didn't matter with Grace Bruns in net. The junior goalie had 13 saves - including a handful of diving ones that helped keep Coldwater in contention.
Emma Wibbeler burnt Bruns on a shot less than nine minutes into the contest to put St. Marys in front 1-0.
With 14:52 to play, though, Coldwater's Maura Hoying weaved through traffic and snuck a shot past Madi Anthony to level the score.
"Maura was out there doing her little tricks," Brackman said. "She aggravates both the defense and the goalie. Hers was a pretty goal."
Josie Bowman had an opportunity to put St. Marys ahead heading into halftime with a penalty kick at the 3:05 mark. But Bruns dove to her left to deny the shot.
"She turns it on when she comes to play and I'm so proud of her because I couldn't ask for anything more out of my goalie," Brackman said. "She saved the ball when she needed to save it. Unfortunately, on that last goal, they had 11 of their players right in front of the goal, so it was hard for us to see. I don't expect her to save something she can't see. But the ones she did save were amazing."
Coldwater took a 2-1 lead with 31:57 left in the game, when Breezy Schneider lofted a shot from 20 yards out over the head of Anthony.
"I tell my girls all the time that no matter where you are on the field, if you get the opportunity to shoot, shoot," Brackman said. "Some of our outside Ds and our defensive mid-players have a strong leg and they never utilize it. I encourage them to try it sometimes because you never know when you're going to catch the keeper off-guard. That's exactly what she did."
Bruns and the Coldwater defense turned away several Roughrider shots over the next 30 minutes.
But St. Marys had the Coldwater goal box stuffed during a series of corner kicks in the waning moments of the game. Ankerman rebounded a header attempt off a corner and scored to force the draw.
"The girls refused to lose," St. Marys coach Seth Hertenstein said. "We sent everybody forward that we could. It doesn't matter if we give up a goal that late. We might as well put everybody in the box, and we wanted it more than they did.
"Before that goal, there wasn't going to be much positive to go off of. It may have helped our attitude as we head into what we're going into next week. I tell the girls all the time that these non-league games are preparation for the league games. Today, we found that we're going to fight all the way to the end."
Both teams are back in action on Tuesday. St. Marys (0-1-1) opens up Western Buckeye League play, hosting Ottawa-Glandorf. Coldwater (1-0-1) travels to face Spencerville in Western Ohio Soccer League action.