Thursday, August 31st, 2017
Help for Texas
Area group pitches in to aid Harvey flooding victims
By William Kincaid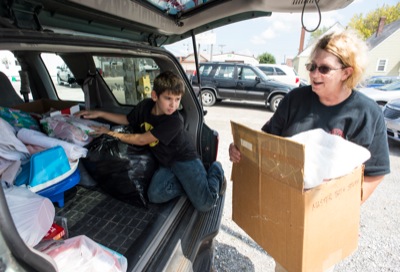 COLDWATER - Members of a multicounty organization dedicated to protecting and serving their fellow Americans have sprung into action to help people affected by the devastating flooding in Texas in the wake of Hurricane Harvey.
On Tuesday morning, the West Ohio Minutemen, based in Allen, Auglaize, Mercer and Van Wert counties, decided to mobilize their members to collect donations in all forms. At least 10 members early Friday morning will take to Texas a box truck loaded with goods as well as a boat to aid in rescue and recovery efforts.
"In a little over 48 hours we have gotten an outpouring of support from the community," member Mary Jo Severt of Coldwater said, noting word of the group's campaign spread like wildfire across social media.
Severt on Wednesday afternoon was stationed in the Buzzard's Glory's parking lot in Coldwater, accepting and loading into a Ford Explorer boxes of clothes and other goods that will be shipped to Texas. Coldwater business Hidden Treasures alone donated more than 4,000 articles of clothing and shoes, she said.
She planned to be back again today from 2-3:30 p.m. in the same location to continue accepting donations. The group is looking for women's clothing, sizes XXL and up; baby and toddler clothing; boys' clothing; female personal-care items; work gloves; personal hygiene items such as deodorant, soap, shampoo, toothpaste and toothbrushes; baby items; nonperishable food; medical items such as bandages and antibiotic creams; adult diapers; flashlights with batteries; blankets; insect repellents; and gas cards.
Severt also noted she'll accept goods at her Coldwater home at 612 E. Vine St. until 7:30 p.m. tonight. Those in other parts of Mercer and Auglaize counties looking to support the effort are encouraged to visit the West Ohio Minutemen's Facebook page to connect with members.
"We are also picking up along the way (to Texas)," member Amanda Taylor added. "Whatever it takes to get these supplies to the people in need in Texas, we are doing what it takes."
The members going to Texas will stay there until Monday, distributing goods and carrying out boat-rescue missions.
They'll likely return for more missions.
"We have done water-rescue training, different various areas of training to help," Severt said.
They'll also provide security, Taylor pointed out.
"We've had practice. We've done this a handful of times," Taylor said. "We've been asked and invited to rallies by organizers for help in keeping the peace, security reasons."
Members remaining in Ohio will maintain constant communication with those in Texas, Taylor said.
"We will keep tabs on where they're at and what they're doing at all times as well as communicating back to us or anybody else," she said.
The West Ohio Minutemen formed two years ago, Severt said. She described the group as a civic-minded organization dedicated to preserving the Constitution and helping Americans.
The group's mission statement, according to its website, is to "protect our rights, our families and our land."
"We train for all situations of emergency, defensive, natural and even man-made," it states. "We reach out to our community in time of need, to assist people with emergencies like flooding, fires, water crisis or even tornado wreckage. We are a group committed to helping one another when they fall on hard times. We the people, by the people, for the people."
Though the members all work full-time jobs, they're prepared to "jump and go when needed," even in the middle of the night, Taylor said.
"We are here to protect and serve," she said.
"We just kind of help our neighbors," Severt said, noting the group has also donated to families in need at Christmas and provided aid to a family in Chillicothe who lost a home to a fire.
Taylor said the group has about 30 members. Recruitment is on hold at the time as its members, some with military experience, complete field and medical training.