Wednesday, September 6th, 2017
Cards beat Riders
By Colin Foster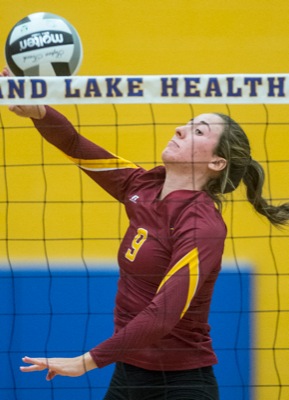 ST. MARYS - New Bremen made some uncharacteristic mistakes in the opening set of Tuesday's match with St. Marys, and the Roughriders deserved some credit for that.
However, everything the Cardinals did over the next three sets was extremely characteristic.
New Bremen rebounded from just its second lost set all season to defeat St. Marys 3-1 (18-25, 25-11, 25-17, 25-16) at Murotech Court.
Paige Jones finished with a match-high 31 kills and 11 digs for the Cardinals, who improved to 6-0 on the season.
In the opening set, the Roughriders (1-7) benefitted from 10 service and/or hitting errors out of the gate by the Cardinals and also got a couple kills by Danielle Bertke to open up a 14-6 lead. New Bremen never closed the gap below five points for the duration of the set. Makenna Mele finished off the 25-18 win with a kill and an ace on consecutive sequences.
"I thought we really, really competed," St. Marys coach Andy Rammel said. "We did some things to take them out of system and to take them out of things that they like to do. Against a team like that, with the offense that they bring and the talent that they bring, you're not going to take everything away from them. They're just a rock-solid team, well-coached and disciplined. But to play against them and control as much of the match that we could, that feels really good."
But it was mostly smooth sailing for the Cardinals from there on out.
With the set tied at 2-all in the second set, Taylor Paul smacked down a kill and New Bremen never trailed again. With Abbi Thieman serving and Jones spiking, New Bremen went on a 12-0 run. Jones had a stretch of four consecutive kills during the 25-11 victory.
The Cardinals took control early in both the third and fourth sets. They broke open set three with a 5-0 run after it had been tied at 6-all. They held a 9-7 lead in the fourth set when they gained some separation with a 6-2 spurt. Later, Jones had back-to-back aces and a kill and Rachel Kremer added a spike to supply the finishing touches on the match.
"I've played enough volleyball to know that even good teams play bad matches," New Bremen coach Diana Kramer said. "Even when you're supposed to win, sometimes you don't. And that was the message. It was a great lesson. To date, it's the best thing that's happened to us.
"We're not invincible. We make plenty of mistakes. The best players in the country make mistakes - Paige proved that tonight. She also proved how good she can be. The same thing goes across the board with our serving. We were really bad with our serving to start, but we finished really strong. Julia Goettemoeller played a really, really good game."
Goettemoeller added 11 kills for New Bremen, Blake Snider collected 10 digs, Kremer had five kills and four blocks, Thieman and Madison Pape finished with 25 and 20 kills, respectively.
Mele and Bertke were the top kill-getters for St. Marys with six each. Madi Howell added five kills and 22 assists. Mele and Howell finished with a respectable 14 and 13 digs.
Each team is back in action on Thursday. The Cardinals host defending MAC champion Marion Local and the Roughriders travel to face Van Wert in WBL play.