Friday, September 8th, 2017
Cavs take out Rangers in three
By Colin Foster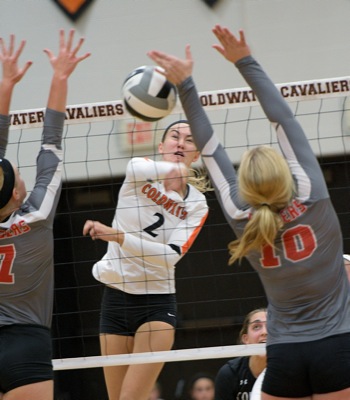 COLDWATER - The Coldwater volleyball team has faced a challenging schedule thus far.
And they've been up for the challenge every time.
The Cavaliers improved to 2-0 in MAC play and 8-0 overall with a brisk three-set sweep of New Knoxville on Thursday at the Palace, winning by scores of 25-11, 25-13, 25-15.
"They're just getting better every day," Coldwater coach Nikki Etzler said. "Something we're talking about all the time is 'What are you going to learn today that's going to help you tomorrow or that's going to help you down the road?' We've got great senior leaders, and our two sophomores are great leaders, too. I mean, Katie Alig is lights out on defense and Lauren Gilliland is great at defending with the block and she's great offensively."
"Our defense and our serve receive is just so exciting, which makes our offense available for us."
The Cavalier arsenal was on full display Thursday.
Olivia Harlamert had four kills early in the first set, helping Coldwater open up an 11-2 advantage. The Rangers crept back into the contest momentarily as a Tasia Lauth kill and a Caitlin Lammers block cut the deficit to 12-8. But Gilliland threw down three emphatic spikes as part of a 15-3 run to end the set with a 25-11 win.
The Rangers (4-1, 1-1 MAC) took their first lead of the match early in the second set when a couple kills by Taylor Doty gave them a 5-4 lead. But Gilliland followed with back-to-back kills, and Coldwater never trailed again in the set. Gilliland racked up more kills along the way and later secured the victory with a block.
New Knoxville had a 1-0 lead in the third set, but never led again. The score was tied at 3 and 5. Allison Sudhoff took the service line with Coldwater leading 12-9 and racked up two aces as part of a three-point run. Tasha Kahlig finished the set strong for the Cavs with a six-point service run and a handful of kills that helped them pull away.
"We just wanted to make (our serves) aggressive and to take them out of their offense," Etzler said. "We knew they have some really talented hitters."
Kahlig had a match-high 12 kills for Coldwater. Gilliland had 10 kills and five blocks, Elena Knapke totaled 35 assists, Katie Alig was 20-for-22 on serve receive and had seven digs and Sudhoff tallied four kills and three blocks.
Coldwater travels to face Van Wert on Monday and then is back in MAC play on Thursday, traveling to Parkway.
"It's a cat fight every night," said Etzler of playing in the MAC. "It's exciting, though, to play teams like that every night. It really challenges you. You can see your strengths. You can see your weaknesses. It just makes you better."