Monday, September 11th, 2017
A Cat and Dog battle
Minster wins five-set volleyball contest over Celina
By Colin Foster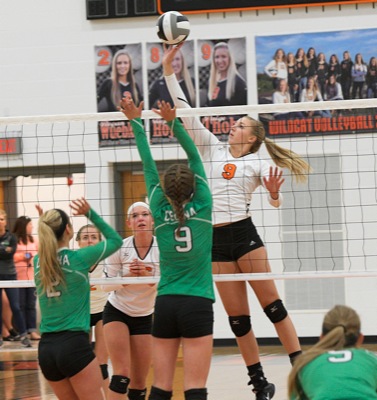 MINSTER - Minster and Celina had gone five sets during last season's volleyball matchup.
It went five again this season, though it certainly didn't appear it was headed that way early on.
The Bulldogs won the first two sets but ended up losing a five-set fight with the Wildcats on Saturday. Celina defeated Minster 25-23, 25-14 in the opening sets, but Minster rallied to win the final three by scores of 25-18, 25-21, 15-8. Both teams wrap up the weekend with matching 6-3 records
"We always push each other hard," Minster coach Cami Garman said. "I always feel like we have really competitive and tough front-row players. Both teams always have girls with a lot of grit. In my seven years, I think we've gone five at least five times."
"I don't know what it is about Minster," Celina coach Amy Sutter said. "I think we're just really evenly matched in terms of hitters and in terms of playing styles. It's always nice to play MAC schools who make us elevate our game."
The first set was tied at 8, 11, 20, 21 and 22. Celina's largest lead was five points after opening the set on a 6-1 run. Minster's largest lead was four points following a 6-0 spurt midway through. Hannah Rasawehr had five kills and an ace for Celina. With the score tied at 22-all, Minster had two hitting errors and Rasawehr finished the set with a dink.
The Bulldogs again started fast in the second set, building a 6-3 lead. Minster rallied back to tie the set at 7-apiece and took its first lead at 8-7 when Danielle Barhorst smacked down her third kill of the set. But the lead didn't last. The Bulldogs regained the advantage on three consecutive kills by Paige Duncan, Rasawehr and McKenna Black, who tallied three kills in the 25-14 victory.
It was a tightly contested third set, but Minster pulled away for a 25-18 victory. The teams were tied at 12-all when Barhorst unleashed a kill. It kicked into action a 13-6 run to end the set for Minster.
And the fourth set was a Paige Thobe takeover.
Thobe had four kills and two blocks to lead Minster to an early 11-7 lead. Celina fought back to cut the score to 22-21, but Thobe followed with a kill and an ace, and a Celina hitting error gave the Wildcats a 25-21 win.
"Being a three-year starter, that's what you expect of her," Garman said of Thobe. "She's one of those players who wants the ball every time. We're going to try to give it to her every time. She executes and she gets her hand on every single ball at the net and she really slows things down a lot for our defense. Once she found her groove blockingwise, I think defensively we started to play a lot more consistent."
"We had an injury that took out our right front (Brooke Robbins), who was really part of that team with Maddy Luebke who was blocking really, really well," Sutter said. "She's really aggressive on defense and at some point, she injured her wrist. … And I also think that we started to rock back on our heels. We weren't playing as aggressive on defense as we did in the first two sets. We let a few line shots drop. Our middle back was out of position a couple times, and we let that change in personnel get in our heads. We quit playing with the same amount of confidence.
"I think (Robbins' injury) had a lot to do with it, because our block wasn't as strong late in the game," Sutter added. "We were stopping (Thobe) really well. Those first two sets, I think Maddy Luebke had six termination blocks alone. I think that was part of the problem. We quit getting as much of a hand on her and we weren't able to slow her down."
The Bulldogs scored the first point of the fifth set, but it was the last time they led. The score was tied 5-5 when Minster ran off four straight points, highlighted by Taylor Hoying's back-to-back kills. To end it, Thobe had two straight kills and one Barhorst kill added the finishing touches on a 15-8 win.
"In games one and two, Celina was outworking us," Garman said. "They weren't letting anything hit the floor, and I think we finally changed that in set three when we started to find that momentum. We always say 'We're not going to lose because somebody outworks us.' I think the girls really took that to heart in sets three, four and five. We just really started to put it on at the end."
Thobe ended with a match-high 15 kills. Barhorst had 13 kills and a match-high 26 digs. Brooke Wolf dished out 45 assists.
Black had 14 kills to lead Celina. Rasawehr had 13 and Luebke added 10 to go with 10 blocks. Hope Ebbing had a team-high 16 digs and Paige Duncan had a team-best 31 assists.
Minster returns to action on Tuesday as the Wildcats host Auglaize County rival St. Marys. Celina is back in action tonight against Versailles.