Thursday, September 14th, 2017
It takes more than Irma to stop wedding
By Sydney Albert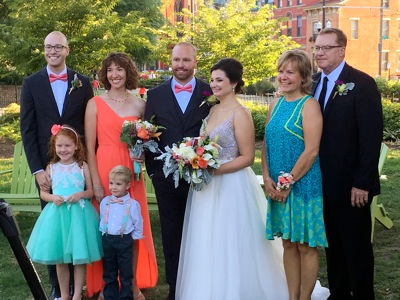 CELINA - On Sept. 4, just five days before Paul Hone and Kathlene Verib were to exchange wedding vows in Key West, the email went out: with Hurricane Irma barreling toward Florida, they would need to postpone their nuptials.
On Sept. 5, another email went out: determined to get married on their chosen date, Hone and Verib had decided to "throw together" what they could for a wedding in Cincinnati.
"We realized the important part of what we had planned in Key West was that we were married," Verib wrote in the email. "With that in mind, we decided it doesn't matter where, or what kind of flowers we have, or what color the linens are as long as I end up Mrs. Hone this weekend!"
Cue the scramble to find all the basic necessities of a wedding: a venue, a caterer, a photographer, a place for the reception. Planning a wedding isn't easy, and doing it on such short notice even less so, but with the help of family, friends and neighbors, as well as their own planning skills, they were able to make it happen.
Celina resident Carol Hone, the mother of the groom, said both the bride and groom were good at evaluating situations, making quick decisions and going for things, citing their professions. Kathlene works as an air-traffic controller, and Paul is a project manager, who has been in charge of constructing multimillion-dollar facilities.
Hone and her husband, Tom, had flown into Key West on Monday, and Carol Hone believes they were the only ones in the wedding party to arrive before Tuesday morning's evacuation notice.
"When we initially flew in, the hurricane was turning and going back out to sea. So it was supposed to go off the East Coast and go away, and by the time we got into Key West late that afternoon, everything was showing that it wasn't turning, that it was coming directly to us," she said.
After contacting a National Weather Service official, who cautioned them that if they waited until the next day to get a plane or a car rental they probably wouldn't be able to. The parents stayed up, calling airlines again and again until finally, at 1 a.m. two seats opened up. Carol Hone said she almost felt bad when she and her husband went to get on the airport on Tuesday.
"There were people all over the airport that couldn't get flights out. They had no idea what they were going to do. And that was Tuesday - it didn't come until Saturday."
While they spent only about 27 hours in Key West, the Hones had been able to rescue a very important part of the wedding while they were there: the bride's dress. Verib, who'd had the dress shipped to Florida, had asked if her soon-to-be in-laws could pick it up and bring it with them. Carol Hone was able to contact the wedding planner and arranged to pick up the dress at the airport.
"We pulled in on our shuttle. We got out. We stood on the curb, I sent her a text, about five minutes later she pulled in and handed me this huge pink bag that I carried the rest of the way back to Ohio," she said.
The Hones had escaped the hurricane, but the whirlwind wasn't over just yet. After their son and Verib announced they would try to get married in Cincinnati, family and friends rallied together to support them.
"Everybody was just positive here when we got back home, it was just, 'OK, we've got to make some flower arrangements. Here's some stuff. Who wants to put them together? OK, now we've got to do this,' and everybody helped set up and tear down, and it was wonderful," Carol Hone said.
For the venue, Paul Hone and Verib managed to book Washington Park in Cincinnati. For the photographer, they found a retired combat veteran. A neighbor of the couple who worked as a caterer already had an event to attend on Sept. 9 but agreed to make food for 50-60 people if the Hones agreed to set up things.
With the wedding moved to Cincinnati, more people were able to attend than had been anticipated, and the couple supplemented the menu with Chipotle catering, which was a hit, Carol Hone said.
The only thing that fell through the cracks was forks for the wedding cake, but Carol Hone reiterated what someone else in the wedding party had said: napkins and fingers work just fine.
"I think it ended up being the most fun wedding I've ever been to just because we were just so happy that we got to pull it off," Carol Hone said.
Planning a wedding is hectic without throwing a hurricane into the mix, but after everything they've been through, Paul Hone and Kathlene Verib are now Paul and Kathlene Hone and enjoying their honeymoon. It may not be the cruise departing from Key West that they'd originally planned, but for now, the couple is probably enjoying being able to turn off their phones and go hiking with their dogs just as much, Carol Hone said with a laugh.

Clarification:
Tom Hone is the groom's father. His name was incorrect in the article and has been corrected.
The error was made in reporting.