Monday, September 18th, 2017
Hot shooting at Moeller Memorial
Shawnee wins tournament; St. Henry finishes as runner-up in competitive field
By Gary R. Rasberry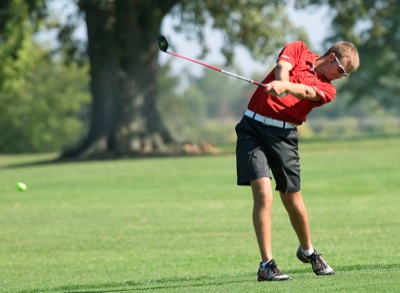 CARTHAGENA - The weather heated up for Saturday's 10th annual Jordan Moeller Memorial boys golf invitational to pay tribute to the late Marion Local golfer.
Shawnee played hot on the Mercer County Elks course in winning the team championship with a 323, 13 strokes ahead of runner-up St. Henry.
"Shawnee played well today. It wasn't even close," St. Henry coach John Dorner said. "Our top two guys, Kyle (Naumann) and Jack (Romer) played well and put good scores on the board. Three through five (third through fifth golfers) floundered a bit today but found a way to limit the strokes and still turn a good enough score to finish second. There's still room for improvement."
Wapakoneta was third with a 338. Minster edged MAC rival Delphos St. John's 353-354 for fourth place. Coldwater and Versailles tied for seventh with matching 369s. Parkway was ninth with a 380. New Bremen was 13th with a 407. Fort Recovery placed 15th with a 413, New Knoxville placed 16th with a 415 and Marion Local was 18th with a 461. Celina participated but did not finish with a team score.
Shawnee's Sam Reed had a strong day to earn tournament medalist honors with a 4-over 76. Reed also earned a $500 scholarship from the Moeller family for having the lowest score among the senior golfers.
New Knoxville's Nathan Tinnerman also received a $500 scholarship after his name was pulled from a drawing of all senior golfers participating in the tournament.
Naumann was two strokes back of Reed at 78 to earn runner-up honors. Shawnee's Keaton McKinley was third with a 79 and Romer was fourth with an 80. Six golfers tied for fifth to complete the all-tournament team: St. Marys' Jill Schmitmeyer; Wapakoneta's Logan Miller; Van Wert's Jared Hernandez; Minster's Grant Voisard; Delphos St. John's Grant Csukker and Botkins' Nick Fischio.
Rylee Deitsch shot an 87 and Ryan Grieshop carded a 91 for St. Henry.
Joining Voisard in the scoring for Minster were Grant Koenig (89), Adam Knapke (91) and Logan Lazier (92).
Coldwater was led by Andrew Fisher's 84 followed by Nathan Kaiser (92), Trey Wolters (93) and Alex Wourms and Caden Seitz (matching 100s).
Mason Baxter led Parkway with a 90. Clayton Agler and Jack Wehe each shot a 95 and Ashton Hamrick shot a 100.
Schmitmeyer was joined in the scoring for St. Marys by Austin Boley (91), Clay Quellhorst (98) and Reese Sweigart (115).
Cole Hemmelgarn shot a 91 for New Bremen with Derek Bergman shooting a 98, Jared Bergman a 108 and Tyler Leichliter a 110.
Harrison Kaup's 96 led Fort Recovery, followed by Grant Knapke's 97, Dylan Ranly's 102 and Derek Lochtefeld's 118.
Collin Everman led Marion Local with a 101. Dylan Homan shot a 107, Garrett Pleiman a 119 and Ian Kramer a 134.
Lance Mawer led Celina with an 88. Tyler Johnson added a 117 and Aaron Winhoven shot a 162.
The Midwest Athletic Conference teams return to the Elks this Saturday for the conference tournament. The Western Buckeye League tournament will be hosted by Celina at Celina Lynx on Thursday.