Wednesday, September 20th, 2017
Flyers top Panthers to end losing skid
By Gary R. Rasberry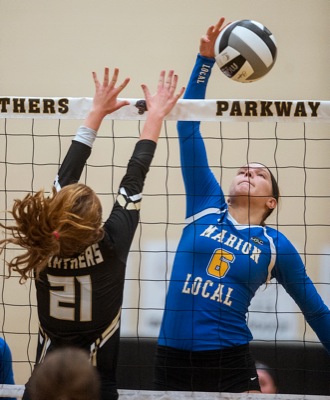 ROCKFORD - The start of the Midwest Athletic Conference volleyball season has been a rough one for defending co-champ Marion Local, having lost to state-ranked teams such as St. Henry, New Bremen and Versailles in conference play.
The Flyers snapped out of a four-match losing streak to sweep Parkway in three sets 25-19, 25-14, 25-19 Tuesday night at Panther Gymnasium.
"It felt good to get the first MAC win of the season," said Marion coach Erica Schulze, whose squad improves to 5-4 and 1-3 in the MAC. "Didn't start (the season) the way we wanted to, but now we can end our story and look forward to the rest of the season."
The Panthers (7-9, 0-4 MAC) gave the Flyers a battle thanks to some extended points, but the Flyers' attack line shone through. With the first set tied at 2-all, Kara Evers got the sideout with a kill to put Marion up 3-2. Sarah Fesenmeyer followed by serving up seven straight points as Evers and Morgan Heckman came up with big kills to extend Marion's lead to 10-2. Parkway battled back to get as close as five at 22-17, but the Flyers closed out the set with Evers' eight kills in the set.
"It was definitely a hard-fought battle," Schulze said. "Parkway is always a scrappy team. They bring great defense. We knew that going in."
"I don't think we won many of the long points," Parkway coach Jordan Henkle said. "We just needed that one time where we stepped up and won that long point to get some of that momentum and energy. We really never had momentum on our side. We'd be close, but then give them a couple of easy points back."
Marion took a 6-2 lead out of the gate in the second set before Parkway came back to cut the deficit to 8-6. Natalie Rethman served the Flyers back into a comfortable lead with five straight service points as Brooke Homan and Kylie Albers started connecting with their spikes. Parkway was unable to bounce back and lost by 11.
The Panthers refused to back down and played the Flyers tough in the third set, leading 10-8 and later 12-9 as the Flyers suffered some hitting errors and Bailey Bates hit a couple of kills. Rethman stepped up with her serve again to give Marion a brief 13-12 lead before the Panthers tied the set again.
Albers put the Flyers back in front to stay with a couple of points, but Parkway tried to stay close before Marion pulled away.
Evers dominated play in the final set, recording eight kills in the set and finished with 19 kills on the night. Morgan Heckman added seven kills and Albers added five kills.
"That's what it's going to take," Schulze said of the multiple players stepping up on the attack. "We just can't have one player. It's going to be a team effort."
"They have good hitters and I think you need to give them aggressive balls (on the attack)," Henkle said. "I don't think we served aggressive enough and then weren't attacking enough. That's a credit to (Marion). Our defense was good tonight."
Bates had four kills to lead Parkway. Grace Rogers added 10 assists and Mackenzie Sipe had 15 digs.
Both teams are back in MAC action on Thursday. Marion Local travels to Fort Recovery and Parkway heads to Delphos to face St. John's.