Friday, September 22nd, 2017
Schmitmeyer earns honors
Western Buckeye League Golf Tournament
By Gary R. Rasberry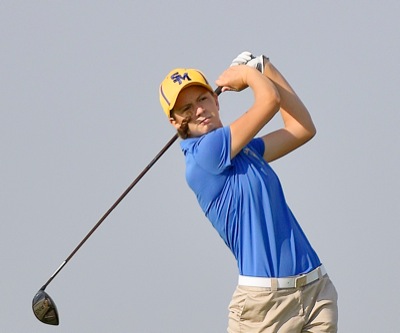 CELINA - For Jill Schmitmeyer, it was a tremendous day of golf at the Western Buckeye League boys' golf tournament at Celina Lynx on Thursday afternoon.
The St. Marys senior finished tied for fourth in the tournament with a 77, which helped her earn runner-up in the points race for league Golfer of the Year.
The battle was down to Schmitmeyer and Van Wert's Jared Hernandez, who held an eight-point lead based on points earned during the league dual match season. Hernandez also finished with a 77, netting both players 54 tournament points to make the final tally 160-152 for Hernandez to earn the top honors for the second straight season.
But no disappointment appeared on Schmitmeyer's face or in her words after she posed with family with her All-WBL first team medal.
"It really means a lot to me," said Schmitmeyer, who was also first team All-WBL last season. "I had a great start to the day with three birdies and finishing 1-under (35) on front nine. I was feeling pretty confident how I was playing and where my game was at. I knew I had a chance to finish high and if things fell into place, I could have got (Golfer) of the Year.
"But I am very happy with second, because being a girl in a men's sport means a lot."
The battle for the team title looked to be a battle between Bath, who won the regular season title, and Shawnee, which finished runner-up. But that wasn't the case.
From the start, Wapakoneta, which had finished third in the regular season, made its presence known, blistering the already-steamy Celina Lynx course for a 306 to win the tournament title and earning 10 points. Shawnee also shot well with a 321 for runner-up honors, giving them a tie with Wapak with 18 total points.
All Bath needed to do was finish third to create a three-way tie for the overall league title, but Defiance shot a 328 to take third and deny the Wildcats a chance at the tri-championship. Bath finished fourth with a 340.
St. Marys finished fifth with a 344 and was followed by Ottawa-Glandorf's 354. Van Wert was seventh with 358 followed by Elida with 363, Kenton with 371 and host Celina with a 465.
Match medalist honors also came down to the wire as Shawnee's Keaton McKinley and Wapakoneta's Logan Miller finished the day with matching rounds of even-par 72. The pair went to the 10th hole to start the playoff, with McKinley parring the hole to Miller's bogey to take the tiebreaker.
Joining McKinley, Miller, Hernandez and Schmtimeyer on the first team were Wapakoneta's Tanner Sweede, Bath's Isaiah Bolon, Ottawa-Glandorf's Austin Radcliffe. Defiance's Jacob Black, Bath's Hunter Liames, Kenton's Rocco Longbrake, Shawnee's Sam Reed and Defiance's Will Lammers.
In addition to Schmitmeyer, Austin Boley shot an 84 for St. Marys. Reese Sweigart carded a 90, Grant Harris a 93, Clay Quellhorst a 95 and Alex Kreischer a 114 for the Roughriders.
Lance Mawer led Celina with a 90. Nate Langenkamp shot a 92, Tyler Johnson a 119 and Aaron Winhoven a 164 for the Bulldogs.
Schmitmeyer begins her postseason next Tuesday at Celina Lynx in the Division II girls sectional as she strives for another All-Ohio finish.
Boley and Mawer were each named to the honorable mention list.
The boys' tournament trail begins Sept. 28 with Divisions II and III playing sectionals. Division I, featuring Celina, starts the postseason on Oct. 3.