Saturday, September 23rd, 2017
Bornhorst, Powers carry Cardinals past Panthers
By Colin Foster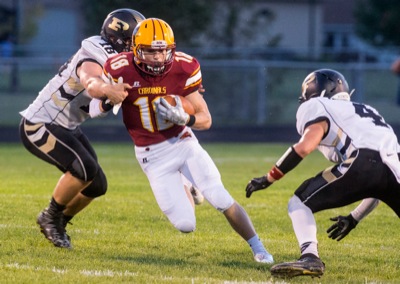 NEW BREMEN - Homecoming is a time for celebration.
And the New Bremen football team gave hometown fans plenty to celebrate on Friday.
Led by the ground attack of Nolan Bornhorst and Avery Powers, the Cardinals defeated the visiting Parkway Panthers 34-20 on Homecoming Night at Cardinal Stadium - capturing their first Midwest Athletic Conference victory since Sept. 28, 2012.
"The kids obviously wanted to get a MAC win this year," New Bremen coach Chris Schmidt said. "They don't know what it's like to go to a Homecoming dance after a victory - and that's something every high school kid should have the opportunity to do. I'm happy for them."
The victory also marked the first time the Cardinals have reached three wins since 2009.
Playing the role of Homecoming heroes were Bornhorst (25 carries, 155 yards, 1 rush TD, 2 pass TD) and Powers (22 carries, 203 yards, 2 rush TD, 1 reception TD).
"For a sophomore, (Bornhorst) does a good job of sticking his nose up there and geting the tough yards and I think the linemen love that," Schmidt said. "And I was tickled to see Avery have the kind of night he had. He's been working hard and he's capable of that. I'm tremendously proud of him."
Powers' 65-yard touchdown burst before half gave the Cardinals a two-score lead and they maintained that distance the rest of the night.
"They threw the toss the one time and our outside linebacker got tackled, but there's no excuses. There's gotta be someone else there to make the tackle on the long touchdown run that kind of broke the game open before halftime," Parkway coach Shane Wellman said. "... We had a lot of injuries tonight, which really handcuffed us, too."
"He's got that capability," Schmidt said of the play. "That was a huge shift in the game."
The game was an offensive shootout in the first half but didn't feature too many highlight-reel plays in the second half.
Parkway's Andrew Baker kicked off the scoring with a 70-yard scoring run at the 6:25 mark of the first quarter.
New Bremen, which went three-and-out on its first series, quickly marched down field on its ensuing drive behind a series of big runs from Bornhorst, who compiled 41 yards on the drive. He later passed near the sideline to Powers, who made a nifty move on a Parkway defender and trotted 27 yards to the house.
But the Panthers were right back in Cardinal territory soon after thanks to a 17-yard run by Nick Hawk and a 15-yard face-mask penalty. It led to a two-yard TD run by Hawk with 9:01 left in the half.
Powers returned the ensuing kickoff to the Parkway 40-yard line. He and Bornhorst again carried the Cardinals the rest of the way, with Bornhorst eventually powering into the paydirt from three yards out exactly two minutes after the Panthers' score.
New Bremen forced Parkway to punt for the first time on its next series and took over at midfield. On the first play, Bornhorst faked a handoff and broke off a 43-yard gain. Later, facing a third-and-one, Bornhorst handed to Powers, who broke a tackle, made a sweet spin move and carried the ball to the seven. With 22 seconds left in the half, Zach Flaute ripped a Bornhorst pass attempt away from a Parkway defender in the end zone for a five-yard touchdown, putting the Cardinals in front 27-12.
The home team went ahead by three scores early in the third quarter, opening with a 10-play, 57-yard drive. Powers dragged a Panther defender with him into the end zone on a three-yard touchdown run.
However, it wasn't over just yet.
Parkway's Caden May ran for a 40-yard touchdown with 11:18 to play in the game. A two-point run by Hawk cut the deficit to 34-20.
The Cardinals had a drive stall inside the red zone on their next series.
But the Panthers, forced to pass, couldn't find any offensive rhythm the rest of the way. Baker was intercepted by Levi Clem, who then fumbled away the ball on the return into the arms of Parkway's Jeremy Feldes. Baker later attempted a deep shot down field on a fourth-and-long, this time Clem picked off the pass and fell to the grass.
Baker, who had been injured earlier in the game, tried to lead Parkway down field one last time late in the fourth, but was intercepted Levi Clem.
"We had our three starting tailbacks hurt at one point in this game," Wellman said. "That kind of slowed us down. They did a nice job of stacking the edges and making us hit it inside. They were going to make us beat them with 3-, 4- and 5-yard plays, and we weren't able to break any of those big until late in the game.
"They knew we were down, so they knew we were going to throw. Ultimately, play action doesn't work nearly as well when someone knows you're going to throw. We had a couple guys open a couple times and we missed them. There were other times where their kids made some good plays."
The Cardinals tallied 412 yards of total offense. The Panthers finished with 273 total yards.
New Bremen (3-2) travels to face Delphos St. John's (3-2) next week and Parkway (1-4) hosts Coldwater (3-2).