Wednesday, September 27th, 2017
Area linemen help in Florida
St. Marys employees restore power to areas hit by Hurricane Irma
By Ed Gebert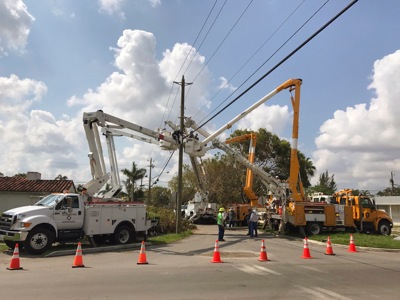 ST. MARYS - Two city linemen helped restore light to the darkness in a Florida town hit by Hurricane Irma.
John Vogel and Jason Durkee had joined a contingent of Ohio workers responding to the damage from the disastrous storm. The pair set off from St. Marys on Sept. 10 for Florida to help restore power in Homestead, just south of Miami. They returned to St. Marys on Saturday afternoon. Also in the caravan of vehicles heading south were electrical workers from Tipp City, Piqua and Hamilton.
"We stopped on the way down and staged in Troy, Alabama, which is south of Montgomery. The next morning we got up and the storm is working its way through, so no one could go in yet to Florida, so we holed up there," Vogel said. "The storm passed through. It was rainy, but we didn't see any big winds or anything like that because of the path it took. It stayed a little more east of us at that time."
The morning of Sept. 12, they were back on the road with about 700 miles to go before finally reaching Homestead.
"We had to deal with unbelievable traffic because everyone was wanting to get back home. It took so long to get 300 miles. It was stop-and-go traffic the whole time," Vogel said.
The Ohio group got to work as soon as they reached town. A crew of eight Ohio linemen worked under the direction of a lineman from Homestead. Fortunately the situation was not as bad as it could have been.
"The whole town lost power on Friday. They got there Wednesday and they had 60 percent of the power up," said Mack Kuenning, St. Marys superintendent of electric distribution.
Homestead has a population of about 60,000 but its electric department was about the same size as St. Marys'.
Durkee said when they reached Homestead, he thought about 100 linemen were in town for the effort, but the numbers increased. At the peak of their activity, about 300 linemen were on duty. Some crews had made their way into mid-Florida and then worked their way south to Homestead.
Vogel and Durkee stayed at a hotel in Homestead on the side of town that already had power restored.
"Yeah, they did have power at the hotel, which was very nice," Durkee said.
Days were spent in the humid Florida summer working to restore lines and eventually power poles during 16-hour workdays.
"It was 80 degrees and humid every morning, even before daylight," Vogel said. "And it got into the low 90s everyday and humid."
"It was about the same temperature all day from when you woke up until you went to bed," Durkee added.
Overall, the situation did not appear to be as dire as they had been expecting from television reports, the men said.
"There was no real mass devastation everywhere. It was just more like trees uprooted, every so-often poles broken just kind of all over," Vogel described.
The area went from general confusion at the beginning of the trip to mostly back to normal. Some palm and avocado branches and debris remained to be cleaned up and a few power poles needed to be replaced. Workers from Tipp City and Piqua stayed in Florida to help in the clean-up.
The men were very pleased with the way Homestead residents treated them during their stay.
"I feel like the people of Homestead, as you were working in and around their properties, they were very accommodating," Vogel said. "We kind of figured we'd be giving people water and Gatorade, but some of them were offering us water. They were appreciative."
"One man had a cooler of water and Gatorade set there for us, even though we told him that we already had some," Durkee added. "They were happy to get their power turned on."
Vogel said they had brought their own supply of beverages for the trip, but they were well supplied while on site.
"Every truck had a cooler, and it was full of fresh ice every day for the Gatorade. We took our own, but they did supply Gatorade and water," he said.
Vogel has 15 years of experience as a lineman, Durkee has four years of experience. They volunteered to be a part of the effort after Irma struck. Each said he would gladly be a part of a similar effort if another emergency situation arises.
Vogel said he volunteered to be part of the effort, "to see something you don't see all the time and to help people."
Asked what was the most rewarding part of the experience, Durkee quickly replied, "Watching the lights come on." Vogel chuckled and nodded his head in agreement.