Saturday, September 30th, 2017
Celina erupts in 2nd quarter, routs Defiance 42-14
By Colin Foster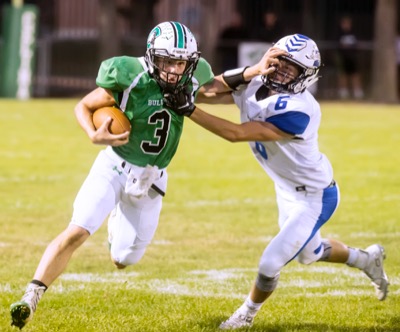 CELINA - Dillon Hoying fielded a punt at his own 40-yard line, tip-toed through a pile of traffic at midfield and then turned on the turbo button all the way to the end zone.
That was the spark Celina needed.
Hoying's 60-yard touchdown return launched a 28-point second quarter for Celina as the home Bulldogs ran past the visiting Defiance Bulldogs for a 42-14 victory on Friday night in Western Buckeye League play.
"(The return) was a spark," Celina coach Brennen Bader said. "We just needed that one play to get us going. I felt good right after that punt return, because we just needed that one big play to generate some momentum."
Five drives went by in the first quarter before a team earned a first down. A 20-yard pass play from Brett Schwieterman to Kole Murlin gave the Green and White the first first down of the night and put the ball inside Defiance territory late in the opening quarter. Celina later missed a 26-yard field goal attempt.
But Celina (4-2, 4-1 WBL) forced Defiance (1-5, 1-4) to punt for the third time early in the second quarter. That's when Hoying made his move, taking the ball to the house with 10:40 to go in the quarter.
Defiance didn't pick up a first down in the first half and totaled just nine yards of offense. And after a slow start, the Celina offense got rolling - especially in the second quarter.
Celina scored its first offensive touchdown with 6:27 left in the half. Working on a short field after a Defiance three-and-out, Brett Schwieterman had a key third down pickup and Kyle Zizleman tallied 25 yards on the series, capping it with a 1-yard TD run.
A little later, Schwieterman led Celina down the field again, the key play a 38-yard pass to a wide-open Murlin in the middle of the field. Schwieterman closed the drive with a 5-yard touchdown run with 2:55 to go in the half.
Celina got back the ball at its own 36 with 1:38 left before break. Facing a third-and-long, Hoying took an inside pitch and rumbled 20 yards for a first down. Schwieterman connected with Murlin for a 30-yard touchdown with 23 seconds left.
Schwieterman delivered a 70-yard TD strike to Hoying with 10:55 left in the third. Sam Smith had a key block on the outside that allowed Hoying to spring free for the TD. Zizleman made it 42-0 with a 20-yard scoring run early in the fourth.
Defiance didn't get a first down until the 7:34 mark of the fourth quarter, when J.D. McNett gained three yards on a fourth-and-one from its own 40.
The visiting Bulldogs tacked on two scores late in the game against the Celina backups. McNett broke free for a 59-yard TD run on a fourth-and-one with 5:43 left. Noah Hagerman added a 40-yard scoring run with 3:33 to go.
"We did a nice job defensively getting stops right out of the gate to keep getting the ball back to our offense," Bader said. "And we knew we'd get going sooner or later."
Schwieterman had the best passing game of his young career, completing 13-of-17 attempts for 249 yards with three total touchdowns (two passing, one rushing). Hoying had five catches for 124 yards and Murlin added five catches for 97 yards.
Celina and Wapakoneta are tied for second in the WBL with one loss apiece. The Bulldogs travel to face the Redskins next week before hosting league-leading St. Marys the following week.
"These last four games for us are really like the playoffs," Bader said. "If we want to win a league title, we've got to win every one of these games. But we're just having a game-by-game mentality right now. We're not going to overlook anybody. Wapak is the three-time league champion. They're right in position again. We've got to go to their place. We'll see what we're made of."