Monday, October 2nd, 2017
All in the family
Sibling couples to mark 50 years
By Ed Gebert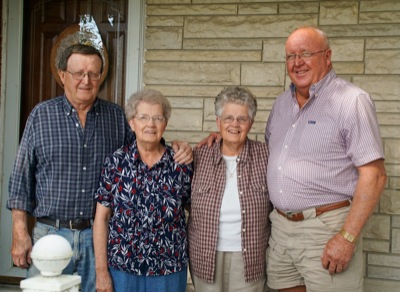 CELINA - Identical twin sisters Jean Zahn and Jane Zahn have always done everything together, including marrying brothers in a dual ceremony, working the same jobs and living in houses with connecting yards in rural Celina.
The twins now will celebrate their 50th wedding anniversary with their respective husbands, Richard Zahn Jr. and Dennis Zahn, on Oct. 23.
The couples said they've known each other nearly their entire lives.
"We all went to Coldwater High School, and we visited back and forth and ran around together, and we just kind of grew up together, I guess," Dennis Zahn said.
"We went together for seven years. Then we had a double wedding at Coldwater church," Jane Zahn added.
The Rev. Ken Bubp from Santa Rosa, California, flew out just to perform the ceremony. The couples were his first wedding, Jane Zahn said.
Bothers marrying sisters is somewhat unusual, but brothers marrying twin sisters and then living next to each other for nearly 50 years is definitely unique. All four said they are happy and couldn't imagine it any differently. It is like having separate families, yet all in one family, they said.
"We've always been together. We have a hedge right between our places, and we've got a little hole that we can go back and forth so we don't have to walk around on the road all the time," Jean Zahn said.
The brothers' mother, Eldora Zahn, and the twins' mother, Pauline Geier were classmates at Coldwater long ago.
"They went to school together, so we all knew each other for a long, long time, and the parents knew each other for a long long time, too," Jean Zahn said
In school, the twins became friends with the brothers' sister, Virginia, and the three girls spent a lot of time together.
"We'd go over there, and the boys would be there. We only had three of us to play games or anything, so we'd always drag the boys in too, so that's kind of how we got together and stayed together," Jane Zahn explained.
Richard and Jean Zahn have two sons, Richard III and Robert, and five grandchildren. Dennis and Jane Zahn raised two daughters, Lori and Lynn, and now have eight grandchildren. All the families live in the area.
The twins, born minutes apart but on different sides of midnight, say they have always enjoyed being twins.
One got sick and then the other one got sick. If one got a spanking so did the other because their parents never knew who had been the culprit, Jean Zahn admitted. The girls dressed alike all through school and beyond. They each worked at Home Bakery before moving on to Celina Insurance Group.
"We had a lot of fun. They had us wear nametags, and then they accused us of switching nametags, so that did no good," Jane Zahn said, laughing.
Only a few could tell them apart, but their husbands could always distinguish them, the women said. The wives think they may have occasionally fooled them, however.
The brothers grew up with two sisters and a brother, and they always found something to entertain them.
"We were brought up in a different era," Richard Zahn said. "We had to come up with our own entertainment, fishing, making stuff."
Richard Zahn became an electrician and worked at that for 42 years, while his brother eventually went to work for the city of Celina, retiring after 35 years in the department of public works. Both were members of the St. Marys Ohio National Guard.
Despite doing so much together, the couples plan to celebrate their anniversaries separately with their children and grandchildren. Richard and Jean Zahn will celebrate with a Mass at Our Lady of Guadalupe Catholic Church in Montezuma while Dennis and Jane Zahn will celebrate with a Mass of Thanksgiving at Holy Trinity Catholic Church, Coldwater, before having dinner with their immediate family.
The Zahns remain close as neighbors, family and friends. They gather together weekly to play cards. The men often meet at the hole in the hedge between their properties to talk, and according to them, the wives are "always" on the phone talking to each other. Just as when they were kids, the four are often together, enjoying the simpler things of life.
"I'd say we became a huge family," Jean Zahn said.