Wednesday, October 4th, 2017
Flyers ace test against Anna
By Colin Foster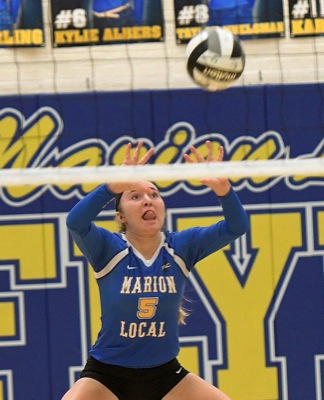 MARIA STEIN - Anna got served on Tuesday night at the Hangar.
Marion Local totaled 13 team aces in a 25-6, 25-19 and 25-22 sweep of Anna that improved the Flyers' record to 10-8 on the season.
"We've always stressed from Day 1 the importance of aggressive serving," Marion Local coach Erica Schulze said. "Tonight the girls came out and they executed well. They hit targets. They hit seams and they were pretty fearless behind the service line, and that's what we're looking for this time of year."
The score was tied 4-all in the opening set when Adaline Mescher smacked down a kill. Lexi Arling followed with an eight-point service run - which included four aces - and the Flyers were never in danger from then on, pulling away for the 25-6 victory.
Marion Local led 10-5 in the second set before Anna responded with a 5-0 run to pull within a point. The Flyers had an answer, though, as they came back with a 7-1 run. Kara Evers had three of her set-high six kills during the run, Natalie Rethman added an ace and Carrie Fesenmyer added a highlight-reel, diving dig. Mescher put the finishing touches on the 25-19 victory with a sweet spike.
Anna took its first two-point lead in the third set at 3-1. But Aubrey Thobe provided Marion with some early offense, with three kills to send the Flyers in front 10-6. Marion held off Anna advances for much of the way, but the Rockets charged back with a 5-0 run late to tie the set at 21 and 22. But Rethman made a heady push-set to an empty corner, Brooke Homan followed with a kill and Rethman ended the match with Marion's 13th ace of the night.
"Some girls stepped up and made some big plays for us," Schulze said. "Natalie Rethman, in the last three plays of the game, went in, hit an overpass, went in, made a setter dump and also had two big serves at the end of the game, with one of them ending up being an ace. It was pretty cool to see her step up and want to win a game for her team.
"I knew after that first set that Anna had more to bring to the table," Schulze said. "We needed to continue to execute and play with urgency and I think we did a pretty good job."
Arling led the way in aces with six and Rethman added four. Evers had a game-high 11 kills and Kylie Albers added seven. Fesenmyer had a team-high 15 digs, Rethman and Taylor Huelsman tallied 15 assists apiece and Morgan Heckman added five blocks.
The Flyers travel to meet Delphos St. John's on Thursday.