Friday, October 6th, 2017
'Riders sweep Bulldogs
St. Marys pulls away to win Battle of Grand Lake
By Gary R. Rasberry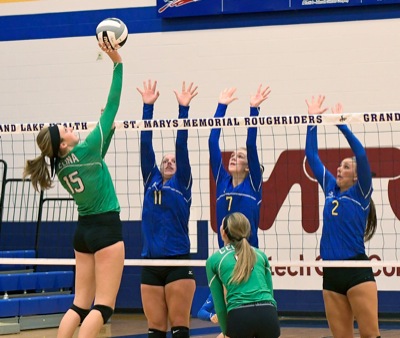 ST. MARYS - The first two sets of the volleyball Battle of Grand Lake featured 19 ties and 10 lead changes as St. Marys picked up a pair of two-point wins over rival Celina.
The third set was all Roughriders as they scored 14 of the final 17 points of the set en route to a 25-23, 26-24, 25-11 win over the Bulldogs at Murotech Court on Thursday night in Western Buckeye League action.
"Celina is a good team," Roughriders coach Andy Rammel said. "That's a good win. They'll make noise at tournament time. To do what we did, to battle with those guys and the athletes they have, that's a testament to how much we've grown."
The match started like it would be a fight right down to the wire as both teams had big comebacks on the night.
In the first set, St. Marys took a 16-11 lead before Celina started to scratch back with a couple points per serve. A Hannah Rasawehr kill tied the set at 17-all. The teams tied at 18-, 20-, 21-, 22- and 23-all before an ace by Aaleyiah Williams gave St. Marys set point and then a kill by Danielle Bertke gave St. Marys the set.
Celina came out ready to play in the second set as Maddy Luebke served up seven points in a row to give the Bulldogs a 11-4 lead early. But like the first set, the big lead did not last as St. Marys slowly crawled back, tying the set at 17-all. Celina went back up 20-18 but could not hold the lead. The Bulldogs had set point at 24-23 with McKenna Black serving, but Danielle Bertke hammered a kill to tie the set and give St. Marys the serve. Back-to-back hitting errors by Celina completed the comeback to put the Roughriders up 2-0.
"We cleaned up the unforced errors when we went on those runs," Celina coach Amy Sutter said. "Then our serve receive took a small vacation. We played right with them, but we had more unforced errors than they did."
The third set started out as a close contest, but after Williams got a kill to put the Roughriders up 11-8, Samantha Ackroyd put on a serving clinic.
The sophomore served up 10 straight points. Celina, struggled and had several hitting errors. Mele and Williams teamed up for a block and Mele added a kill to put St. Marys up 21-8.
"Sam has a power serve," Rammel said of Ackroyd. "If she doesn't end her serve, she can on runs like that. She was able to dictate the pace."
"I think we were probably setting the wrong people," Sutter said. "Hannah should have got the ball more in the middle because they really didn't have an answer for her in the middle.
"I think (because) it was a rivalry match and we always want to beat St. Marys, we were creating more stress than the situation called for. If we relaxed and executed, it would have been a different outcome."
Celina managed just three more points, but the Roughriders were in control as a Bulldog hitting error ended the match.
"When you look at the scoreboard and see a score like that (in the third set), you want to finish if off," Rammel said. "We did that. When you get them in a position like that, you have to put them to the mat."
Mele had 11 kills for St. Marys with Danielle Bertke adding nine kills.
Rasawehr had 14 kills for Celina, but only three in the third set. Paige Duncan had 12 assists and 10 digs and Hope Ebbing had 12 digs.
St. Marys (9-10, 5-2 WBL) travels to Defiance on Tuesday for WBL play. Celina (11-8, 5-2 WBL) hosts Piqua in a non-conference match on Saturday.