Friday, October 13th, 2017
Hard-fought victory
New Bremen captures first MAC volleyball title since 2008 with win over St. Henry
By Gary R. Rasberry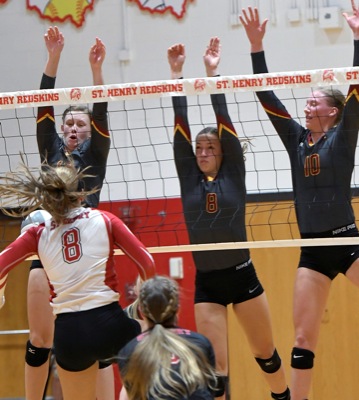 ST. HENRY - Diana Kramer knew that if her New Bremen squad wanted to clinch a share of the Midwest Athletic Conference volleyball title that the Cardinals would need a big game against St. Henry on the Redskins' home court.
The two teams battled right to the end with the Cardinals claiming their first MAC title since 2008 with a 25-20, 25-22, 25-16 victory on Thursday night.
"We knew exactly what we were getting ourselves into with St. Henry," said Kramer, a former Redskin player and head coach. "They're an amazing team and well-coached. It was a battle tonight. They got us out of our element tonight and we made a lot of mistakes. I can't be prouder of how my team came out and responded to their mistakes."
The first set of the match set the tone for the evening. The teams were tied at every point up to 9-all. A kill by Rachel Kremer put the Cardinals up 10-9 and then a kill by Paige Jones put New Bremen (21-1, 8-1 MAC) up by two. Addy Vaughn's kill got the Redskins to within one again at 11-10, only to have Jones tally another kill, followed by an ace by Madison Pape and a stuff-block by Kremer to make it 14-10 and force St. Henry coach Tricia Rosenbeck to call a timeout.
"We struggled at the service line. I don't think Paige scored a point on her serve (in the first set. She did have two points in the third set). That doesn't happen," Kramer said.
The Cardinals tried to pull away, going up by five several times before St. Henry tried to inch back, but Jones recorded her 11th kill of the set to pick up the win.
St. Henry took an early 6-5 lead in the second set, but New Bremen took the lead on back-to-back kills by Jones. The Redskins kept a close pace, recording ties at 13-, 14-, and 17-all before another Jones kill gave the Cardinals the lead for good.
"With New Bremen, if you let them go on a little run of 3-4 points, it's hard to come back from that," Rosenbeck said. "A little lapse here, a little lapse there, the game's blown open."
After two grueling sets, the Cardinals looked primed to put the match away with ease in the third set, going up 10-5 thanks to a solid service run by Kremer. A later run by Macy Puthoff put the Cardinals up 20-10. St. Henry tried to get closer, but after getting to within eight at 21-13, the Cardinals closed the door, with Jones the appropriate player to score the match - and conference - winning kill.
"We came out refocused that third set," Kramer said. "I reminded them how important it was to just continue grinding away. That's what you have to do when you play in the MAC."
"It was definitely a competitive match," Rosenbeck said. "We just made a lot of little errors. New Bremen is a strong team and they made us make a lot of errors. A few little things here and there to clean up, and it could have been a different game."
Jones finished with 34 kills to easily maintain her area lead in the stat. Julia Goettemoeller added eight kills and Abbi Thieman and Pape had 19 and 17 assists, respectively.
Britney Siefring had a solid night for St. Henry with seven kills. Carleigh Deitsch had 15 assists and 14 digs with Julia Holdheide adding 14 digs.
Both teams have byes in the opening round of the Division IV volleyball tournament starting next week. Top-seeded New Bremen awaits the winner of Parkway and Antwerp next Thursday at Cardinal Gymnasium and St. Henry (18-4, 6-3 MAC) plays the winner of Delphos Jefferson and New Knoxville at Redskin Gymnasium on Thursday. New Bremen and St. Henry could face each other again in the district final at Van Wert on Oct. 26.