Monday, October 16th, 2017
Great day means runner-up honor for Schmitmeyer
Division II State Girls Golf Tournament
By Colin Foster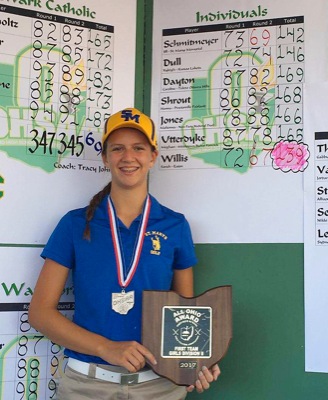 Compiled by Colin Foster

Jill Schmitmeyer saved her best for last.
Playing her final round of high school golf - on one of the toughest courses, no less (Ohio State's 5,560-yard Gray Course) - the St. Marys senior shot one of the best rounds of her life.
After shooting an opening round of 73, she encored with a 69 to finish with a 2-over 142 to share runner-up honors with Independence's Sophia Trombetta at the Division II state golf tournament.
"I'm really happy with how today went," Schmitmeyer said. "I hit the ball great. I made the putts I needed to. It just all fell my way. I'm really happy I could end my career this way."
Eaton's Sarah Willis, playing in the same group as Schmitmeyer, repeated as state champion with a two-day total of 139 that included a 3-under 67 on Saturday. Willis and Schmitmeyer were even most of the day, but Schmitmeyer double bogeyed the par-3 13th and Willis went on to birdie the final three holes.
"It was exciting," Schmitmeyer said. "It made it interesting because I knew where I stood with them and I could kind of keep track of where I was throughout the whole round and kind of battle it out. It really made me take it hole by hole and made me focus."
Schmitmeyer became a two-time All-Ohioan in her third appearance at state, jumping three places after a fifth-place finish in 2016.
"I missed qualifying by a stroke my freshman year, then I went and got 19th and then I jumped to fifth last year," Jill said. "I just wanted to keep improving every year, so to finish second really means a lot to me. I feel like I played well, too, both days. I'm just really happy with the way everything has gone."
"This was a fabulous final round," said her coach and dad, Steve Schmitmeyer. "It was just the one bad par-3 that she had the double bogey on (hole 13). But she had so many again today. She got a couple of them to go in. ... We're just really ecstatic with the 1-under 69 round. Words in no way can describe what I'm feeling right now."
St. Henry's first state trip ended with a 12th-place finish, collecting a two-day total of 761. The Redskins shot a 380 on Friday and then a 381 on Saturday.
Ellen Naumann tied for 29th with a two-day total of 173. Karleee Staugler had a 184, Allyson Hemmelgarn a 198, Claire Clune a 206 and Elizabeth Rockwell a 218.
"We came in yesterday with a 380 and I'm thinking 'Hey, that's a great score,' " St. Henry coach Gary Broering said. "But then I came to the realization that we're at the state level. There are a lot of great players here. There were a lot of great scores.
"The girls are maybe a little disappointed, but hey, we were at state. It was a great experience and we enjoyed it."
Independence claimed the team title with a score of 652. Runner-up honors went to Shelby (663) and bronze belonged to Lima Central Catholic (667). Versailles placed 10th with a 739.