Wednesday, October 18th, 2017
Wildcats sweep Patriots
By Colin Foster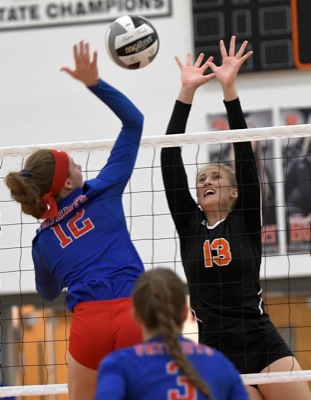 MINSTER - The Patrick Henry Patriots fought hard like patriots do.
Minster just had way too much firepower to make it a fair fight.
Paige Thobe had 12 kills, Taylor Hoying and Taylor Kogge added seven kills apiece, and the fourth-seeded Wildcats swept the sixth-seeded Patriots by scores of 25-20, 25-22 and 25-15 to open Division III tournament play on Tuesday in Minster.
"Patrick Henry was scrappy," Minster coach Cami Garman said. "We got a little out of sorts every once in a while, but when we got those opportunities and found ourselves, we were really able to utilize a lot of our offense."
The Wildcats next host Perry in the sectional final at 7 p.m. on Saturday.
Kogge had two aces and Hoying added two kills for the points on a 4-0 run early in the opening set. Minster led the rest of the way, extending its lead to 21-11 at one point before a 9-3 run by the Patriots cut the deficit to 24-20. But Kogge stuffed Carissa Rosebrook for the set-clincher. Hoying had a set-high four kills and a block and Kogge finished with three kills and two blocks.
The duo led Minster out to a 9-2 lead in the second set, with Hoying getting back-to-back spikes to launch the 7-0 run and Kogge adding two more aces along the way.
The lead didn't last, though.
Hitting errors piled up for Minster as Patrick Henry went on an 11-2 run. An ace by Audrey Sonnenberg and a hitting error gave the Patriots a 13-11 lead. They didn't relinquish their advantage until late in the set, when the Thobe takeover was in full swing. Thobe had a kill, a block and another kill to give the Wildcats a 20-19 lead. Patrick Henry re-tied the set at 21-all and then Danielle Barhorst put Minster ahead for good with a kill. Thobe added a pair of aces at the end to give Minster the 25-22 win.
The Patriots built an 8-5 lead in the third set after three straight spikes by Rosebrook. Once again, though, Minster responded. Two Thobe blocks and one Kogge kill knotted the score at 8-apiece. Minster followed with an 8-4 run and continued to pull away for the win.
"We expected Paige Thobe to get her kills and she got her kills," Garman said. "Taylor Hoying really came through for us tonight. That's kind of her breakout game. She's been in and out of injuries, and that's the game we've been waiting for her to come back and have after all these injuries. I'm pleased to see a couple of my seniors step it up and take control of the game. They want to play another day. They're not going to let anyone take it from them, that's for sure."
Kogge had a team-best five aces, Regan Wuebker had four and Thobe three. Wuebker had a team-high seven blocks, Thobe had six and Kogge five. Brooke Wolf had 29 assists and Emily Stubbs tallied 22 digs.