Saturday, October 21st, 2017
Homan Express leads Indians
By Dave Stilwell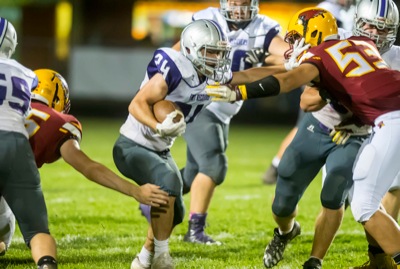 NEW BREMEN - Will Homan rushed for 291 yards to power Fort Recovery to a 38-7 victory over New Bremen Friday at Cardinal Field.
Homan scored on runs of 79, 51 and five yards, adding to an impressive senior season that has seen him rush for 1,862 yards through nine games, breaking his own single-season rushing record (1,805) that he had set last year.
Homan owned the career rushing record before the season even began and currently stands at 4,846 yards.
"I was joking with him going through the line after the game," New Bremen coach Chris Schmidt said. "I said, 'It's about time for you to graduate isn't it?'
"The frustrating thing about playing against him (Homan) is that he just doesn't need much," Schmidt added. "Just a little bit of a crease and he's gone. But what makes him really good is how hard he runs."
Fort Recovery coach Brent Niekamp said Homan makes the play-calling easy.
"He's kind of like a security blanket for an offensive coordinator." Niekamp said. "If you don't know what to do, you hand him the ball."
But Niekamp was quick to point out that Homan is getting some help.
"Our offensive line has been doing a great job," he said. "Those guys do a good job up front. They are physical. They move people and they wear on people throughout the game. They were able to do that again tonight."
The Indians got the scoring started on their second possession - a one-play 79-yard touchdown run by Homan with 1:45 left in the first quarter.
Freshman Cobe Wendel added the first of his five extra point kicks to give Fort Recovery a 7-0 lead.
New Bremen, which had success moving the ball in the first half, penetrated to the Fort Recovery 21-yard line on its next possession, before a 10-yard quarterback sacked forced a punt into the end zone.
The Indians responded with a 10-play, 80-yard drive capped off with a five-yard run by Homan for a 14-0 lead at the 2:13 mark of the first half.
New Bremen returned the ensuing kick to near mid-field and went right to work.
Quarterback Nolan Bornhorst kept the ball on a read option and rambled 36 yards, followed by a 13-yard run by Avery Powers.
One play later, a scrambling Bornhorst found Powers in the back of the end zone from 11 yards out. A PAT kick by Spencer Alig cut the Indians lead in half with 1:02 left in the half.
But Fort Recovery did not allow New Bremen to take any momentum into the intermission break. The Tribe quickly moved the ball into New Bremen territory and tacked on a 34-yard field goal by Wendel with one second left in the half.
And when the Indians opened the second half with touchdowns on back-to-back possessions, the Cardinals found themselves on the ropes.
"That field goal stung a little bit because we get the touchdown and we're trying to get into the half, keeping it at a one score game," Schmidt said. "But what was worse was when they started the second half and went right down and scored. That was a big momentum swing too."
"New Bremen made some nice plays in that drive toward the end of the first half, but I liked how we responded to that," Niekamp said. "We kept our poise and gave ourselves a chance to score before the half.
"And knowing that we had the ball coming out, we felt like we wanted to establish the run and take control of the game," he continued. "It's an easy thing to want to do when you have a line like we have and a running back like we have."
Fort Recovery took a 31-7 lead into the forth quarter and tacked on seven more points on a 12-yard run by backup running back Kody Shinabery.
The Indians, now 4-3 in the Midwest Athletic Conference and 5-4 overall, finishes the regular season at home next Friday against St. Henry.
New Bremen (1-6, 3-6) travels to Versailles.