Monday, October 23rd, 2017
Cav Mobile rolls along once again
By Georgia Rindler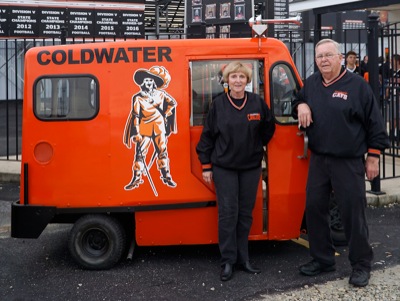 COLDWATER - Resident Ralph Gels has resurrected the Cav Mobile - a blast from Coldwater High School's past - to help rev up the village's orange-and-black spirit.
The motorized three-wheeler, originally a Postal Service unit, was purchased in the 1970s by the Coldwater High School Booster Club, who had owned it for two to three years. The students had painted it the school colors and added the Cavalier mascot.
Bob Hibner, former owner of Hibner Jewelers, purchased it in the late 1970s and drove it as the golden car for more than 20 years. Gels purchased it for about $1,000 from Hibner at a November 2007 estate auction and later began restoring it to its former glory. He referenced old yearbooks to determine its exact look.
He discovered some guys in the yearbook photos who will celebrate their 40th class reunion this year and decided to reintroduce the vehicle to them.
His second goal is to take the three-wheeler around town and get as many organization members, business owners and employees as possible to have their pictures taken with it so he can make a scrapbook. Using the Chamber of Commerce's Coldwater Area Business Directory as his guide, he has so far snapped 140 pictures.
"We talked about the possibility of just lining the pictures up and putting them in a 4-foot-by-8-foot frame and put it on the wall here at the (bed and breakfast he and his wife, Janet, own) in the hallway," he said.
The project, he said, has been well-received.
"I've had some people who were a little bit leery of it," he said, noting everyone eventually agreed once he explained his goal.
Gels said one proprietor gave him a pair of sunglasses "so I'd be styling when driving around town." He's also collected his share of hats and T-shirts. Each participant receives a photo with the Cav Mobile.
Even people who identify with other towns or school systems have taken part.
"It's a Cavalier buggy, but there are Redskins and Indians, Flyers and Panthers. Every community around has somebody that works here in town," he said.
Individuals have told him they associate with another team, but no one has refused a photo with the Cavalier.
"It's just a fun project," he added.
Gels said he had bought the vehicle simply because it was available but some nostalgia was involved, too.
"I really felt it had to go somewhere where it would be restored," he said.
His family's reaction was typical at first. The younger generation was concerned about what Gels and his Cav Mobile would be doing around the community.
His wife suggested and they agreed, "If dad wants to do it, let's humor him." But they soon jumped on board and are very supportive. He has photos of the entire family over the years, posing with the vehicle.
"It's a good project, it's a good hobby. He gets to meet all these people," Janet Gels said.
Restoring the vehicle to its former Cavalier appearance was a group effort. Gels had help from people with expertise in different areas. Jim Eyink worked on the mechanics, Chris Dues painted it in his barn and Mark Schmitt, Amber Temple and Mercer Color handled the Cavalier decal and lettering.
"It took a couple of months, working during free time in the evenings," Gels said.
Seeking parts or repairs gets interesting reactions.
"Every garage, any garage you go to in Coldwater they say, 'Hibner brought that thing in here. We worked on that.' One guy commented 'I thought I was rid of that thing,' " Gels said.
The Cav Mobile's title lists it as a 1964 Universal Mailster. Gels believes his three-wheeler was built in Wisconsin by Cushman. It has an Onan engine with a 15-gallon gas tank and uses regular gasoline. The vehicle has the capacity for a driver and passenger on the front seat and two or three children in the back.
In Gels' opinion, traveling around town in the Cav Mobile is not gauged in typical transportation terms.
"With something like that you don't judge the mileage in miles per gallon. You judge it in smiles per gallon. It brings a lot of smiles to a lot of people," he said.