Wednesday, October 25th, 2017
Bulldogs get payback
Division II District Volleyball
By Gary R. Rasberry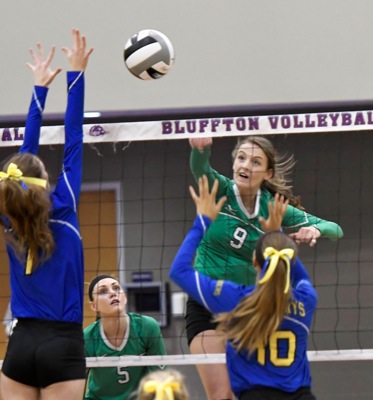 BLUFFTON - Much like their first meeting earlier in October, Celina and St. Marys put together three competitive sets.
Only this time, there was no swoon for the Bulldogs as they avenged their loss to the Roughriders with a 28-26, 26-24, 25-21 sweep in the Division II volleyball semifinals at the Sommer Center on the campus of Bluffton University.
The win moves Celina (14-9) into the district final at 7 p.m. on Thursday against top-seeded Shawnee. The Indians swept Wapakoneta in the opening game.
Celina and Shawnee met in the regular season finale with Shawnee winning in five sets to deny the Bulldogs a tie for second place in the WBL.
"We were still so tense wanting to win and get a little payback," Celina coach Amy Sutter said. "This was a great game. I think both sides played super well. They were prepared for us."
"It was very similar to the (regular season) match at our place," St. Marys coach Andy Rammel said. "We talked about the razor-thin margin between the two of us."
Neither team was able to get a toehold on the lead in the opening set until a kill by Aaleyiah Williams gave St. Marys an 18-15 lead. Celina was able to tie the set at 19-all, but a kill by Danielle Bertke gave St. Marys set point at 24-21. Hannah Rasawehr stopped the momentum with a kill and then Samantha Carlin came up with three straight points as Kassidy Fark had two kills to tie and then give Celina a 25-24 lead. Samantha Ackroyd tied the set again with a kill, but Celina refused to give the Roughriders another set point as a hitting error by St. Marys gave Celina the set.
The second set was a near copy of the first. Celina took a 14-11 lead midway through the set, but Madi Howell put St. Marys in front 20-17 with a five-point service run that forced Sutter to call her second timeout. The Bulldogs recovered and were able to get set point at 24-23 on a St. Marys hitting error. A Celina miscue tied the set again, but the ensuing serve by St. Marys went into the net, which was then followed by a Black kill to give the Bulldogs a 2-0 lead in the match.
"We talked about not over-emphasizing this match like we did the first time because of the rivalry," Sutter said. "I think we overplayed (the first time around). This time, we stayed calm. cool and collective."
Unlike Saturday's match with Defiance where Celina had to rally to win the second set and then lost the third set, the Bulldogs were not in the mood for a swoon in the third set, matching St. Marys nearly point for point before breaking a 17-all tie with a Rasawehr kill. A Roughrider hitting error made it a two-point margin. St. Marys was unable to get any closer than a point away from Celina as Maddy Luebke closed out the match with a kill.
"They shut out our outside (hitters). But, boy oh boy, our middles (middle hitters) stepped up in Hannah and Maddy," Sutter said. "McKenna had some great hits and so did Kassidy. We had some great shots from everybody."
"Our flaws showed at critical moments," Rammel said. "You have to give them credit for bringing that motivation and battling back at times. We had opportunities to take control.
"I can't be more proud of my girls. This group is truly 15 (players) strong. They fought, battled and never quit."
Rasawehr had a match-high 15 kills for Celina. Black added 13 kills. Luebke finished with four blocks with Paige Duncan adding 26 assists.
Danielle Bertke led St. Marys with 10 kills. Makenna Mele added nine kills and Howell had 27 assists.