Thursday, October 26th, 2017
Coldwater shuts out LCC
By Gary R. Rasberry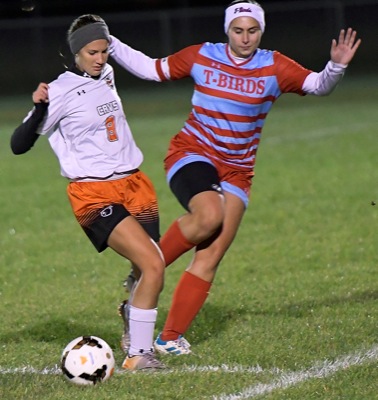 OTTOVILLE - The weather may have been chilly at Ottoville High School on Wednesday evening, but the defense of Coldwater and the offense of Maura Hoying were on fire.
Cavalier keeper Grace Bruns made 12 saves and Hoying's two first-half goals held up in a 2-0 win over Lima Central Catholic in the Division III girls' soccer district semifinal.
Coldwater (10-6-2), the second seed of the district, now faces top-seeded Kalida (10-4-4) at 5 p.m. on Saturday in the district final. The Wildcats defeated fellow Putnam County League foe Continental 2-1 in the first semifinal of the day.
"LCC is a great team," Coldwater coach Lisa Brackman said. "I'm happy to get out with a win and get to the district final
The Cavaliers defeated the Thunderbirds (9-7-2) 3-2 in the teams' regular season meeting in Western Ohio Soccer League play, so Brackman knew the rematch could be a challenge.
As it turned out, the defense played tough. In one four -minute span in the first half, Bruns made a save on a breakaway shot attempt by LCC's Jenna Rose. Later, Bruns stopped one shot and turned away the rebound to keep the T-Birds scoreless. As the game went on, the Cavalier defense wore down LCC and kept them from getting any decent looks at the goal.
"I got a little nervous. They were coming at us," Brackman said. "It's nice to get the shutout. Grace did an amazing job and the defense shut them down. If it wasn't for them, we wouldn't have the shutout."
Hoying was defended close, which has been the case most of the season, but was able to break away from her shadow and took off with the ball to the LCC goal, putting it past keeper Kitt Siatkowsky with 24:32 left in the first half to give the Cavaliers the opening score.
The second goal was scored with just under three minutes remaining in the half after Mara Dues was fouled and the Cavaliers were awarded a free kick some 40 yards away from the goal. Hoying teed up the free kick and booted a line drive past Sitakowsky to the far post corner of the net with 2:58 left in the half to make it 2-0.
"Her set pieces are gorgeous," Brackman said of the free kick. "Once again, Maura shows us and plays. She helps us get those wins, for sure."
Coldwater had a few chances to add a goal in the second half, but the T-Birds and the weather cooled off the offense as the Cavaliers were content to leave with the two-goal win.
Saturday's district final will be the third time Coldwater and Kalida have played for a trip to the regional. The Wildcats won 1-0 in overtime in 2015 and 5-0 in 2012.