Saturday, October 28th, 2017
The G.O.A.T.
Homan sets Mercer County rushing records as Indians beat Skins to secure playoff berth
By Colin Foster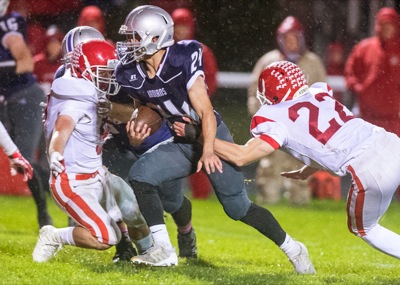 FORT RECOVERY - Will Homan became Mercer County's most prolific running back of all-time.
And Fort Recovery secured a playoff spot for a fourth consecutive time.
Homan set a Mercer County single-game rushing record with 387 yards on 32 carries and scored three touchdowns to lead the Indians past St. Henry 28-16 in a playoff, play-in game on Friday night at Barrenbrugge Park.
"That's maybe the best performance I've ever seen," Fort Recovery coach Brent Niekamp said. "That was incredible. Our offensive line did a great job tonight. There's no doubt about that. But he also made a couple plays that I've really never seen before. I'm awfully proud of him and every single one of these guys."
The single-game record had been held by St. Henry's Doug Speck, who amassed 381 yards in a 1993 game. That wasn't the only record to fall on this night, either. Homan surpassed Marion Local's Marc Otte (2,110 yards in 2006) for most yards in a season as he raised his total to 2,249 yards on 251 carries, an average of nine yards per attempt. He also became Mercer County's career rushing leader, vaulting pass Speck (4,990 yards from 1990-93) with a new record total of 5,231 yards.
"There's no other way to say it besides it feels awesome," Homan said. "I knew coming into the game that I was going to need 140 to get the record, but I figured I was going to need more than 140 to beat these guys. Whatever I could do to help get us into the playoffs for a fourth straight year I was going to do."
The rain didn't stop Homan from doing what he wanted to do.
He ripped off a a 55-yard run on the second play of the game, which led to a missed field goal. That run was a precursor of things to come.
St. Henry took over at its own 20 after the missed kick and was forced to punt. A running into the the punter penalty extended the drive. Daylon Lange connected with Tyler Schlarman for a gain of 34 yards on the first play on the new set of downs. Jaren Fishbaugh added a 20-yard run to set up a 21-yard field goal by Ryan Luttmer that put the Redskins in front 3-0 with 4:29 left in the first quarter.
And the big plays came in bunches over the next two minutes.
Homan shot around the edge for a 65-yard touchdown on the opening play of the next drive to give the Indians the lead 15 seconds later.
Lange hit Schlarman for a 62-yard scoring strike on the second play of St. Henry's follow-up series. The Redskins missed the extra point and led 9-7 with 3:26 on the clock.
But that lead was gone a minute later, when Homan broke a handful of tackles as he powered his way to the paydirt from 76 yards away.
"The line did a good job of putting a hat on a hat," Homan said. "And we thought we could take advantage of their safeties. I got to the safeties two or three times and away I was."
St. Henry's Parker Link returned the ensuing kickoff to the Fort Recovery 43-yard line. The Redskins did nothing with the good field position, though. Luttmer pinned Fort Recovery at its own 5 with a punt.
The poor field position didn't matter to the Indians.
Homan moved the ball across midfield with a 40-yard burst. Clay Schmitz did the rest, faking a handoff to Homan and taking a bootleg 35 yards untouched into the end zone with 8:51 left in the half.
The Redskins responded just before the break, with a 5-play, 54-yard drive. A 39-yard pass from Lange to Luttmer set up a 3-yard touchdown run by Fishbaugh to make the score 21-16 at half.
Homan had 16 carries for 277 yards (17.3 yards per carry) by the intermission and kept his foot on the gas in the second half.
The Redskin offense was forced to punt a lot in the third quarter.
They went three-and-out on their second drive and a short punt gave the home team the ball at its own 47-yard line. Homan broke a tackle and rushed 41 yards on the opening play. A 9-yard Homan run with 2:07 left in the third gave Fort a 28-16 lead.
"Will Homan's a dude," St. Henry coach Brad Luthman said. "For my money and anybody that wants to vote, he's the MAC Offensive Player of the Year and he showed it to us very clearly tonight."
The Redskins took their next drive across midfield on a big-play screen pass to Luttmer and a 9-yard run by Cody Bruggeman. But Ryan Braun sacked Lange to derail the drive and force another punt.
St. Henry had a chance to make it a one-possession game late in the fourth, driving inside the Indian 10. The Fort Recovery defense came up with another stand, though, sacking Lange on a fourth-and-goal from the seven.
"That's two weeks in a row that we haven't come out of halftime very well on offense," Luthman said. "One of the biggest reasons is because one of their seniors, Andrew Stocker, is outstanding. He was getting off plays and clogging up the middle. After the first quarter, they started playing softer coverage. Andrew Stocker was stuffing the run and we couldn't get over the top, which made for a tough night.
"I love my guys and i feel really bad for them that I couldn't get them in the playoffs. We got beat by a really good team and a couple of really good players."
Lange completed 11-of-25 passes for 209 yards and Schlarman made seven catches for 137 yards. The Redskins finish the season with a record of 6-4.
Stocker and Ethan Schoen led the Fort Recovery defense with nine tackles apiece. Braun had two sacks.
Fort Recovery will travel to face either Lima Central Catholic or Marion Local in the opening round of the Division VI, Region 24 playoffs next Friday.
"It's hard to describe," Niekamp said. "Four years in a row of getting in is something else. It's something that was in our wildest dreams four years ago. It feels awesome. We had a great week of practice this week. I thought the mentality of our players was good all week, very business like and excited for how big of a game this was but not anxious about it. That's how we played tonight. We played very poised and we played very hard and well in many phases of the game."