Monday, October 30th, 2017
Sweet sweep
Cavs top Titans in three to earn regional spot
By Colin Foster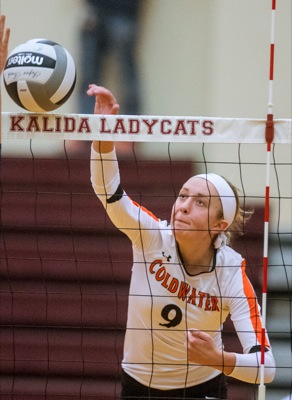 KALIDA - It was a star-studded Division III Kalida district final between Coldwater and Ottawa-Glandorf on Saturday.
A combined 10 All-Midwest Athletic Conference/ All-Western Buckeye League players suited up for the game.
The biggest star of all was Coldwater's Tasha Kahlig.
The senior spiker had 14 kills, 14 digs and four blocks as the top-ranked Cavaliers swept their way into the Sweet 16 with a third straight three-set win, defeating the seventh-ranked Titans 25-23, 25-17, 25-21 in a battle between champions from the MAC and WBL.
"Going into tournament, we know that we need to give each team our best game," Kahlig said. "We don't want to leave with any regrets. We've just got to go in there with confidence and do what we're capable of doing. They're a very solid team. They've got big hitters and we knew that we needed to take care of our side if we wanted the result to turn out well."
The Cavs advance to the Lake regional to face 16th-ranked Marion Pleasant on Thursday at 6 p.m.
Saturday's match was the first time Coldwater had been pushed this postseason, but the outcome was the same.
O-G had three points on blocks and a combined five kills by Carly Alt and Taylor Alt as it built a 10-6 lead. Coldwater followed with a 9-1 run, Tasha Kahlig leading the way with three kills and a block as the Cavs took their first lead of the set. Coldwater was in front 20-16 before O-G reclaimed the lead with a 5-0 run. The set was tied at 21, 22 and 23, but Allison Sudhoff had a kill and then Kahlig provided the set-ending spike off an assist by Katie Alig.
It was a very competitive second set, with good offense and even better defense on both sides. The Cavs broke a 4-4 tie and led over the duration of the set, their largest advantage 18-10. The Titans cut the deficit to 19-15 after back-to-back kills by Claire Eiden. Coldwater reached the magic 20th point first on a kill by Lauren Gilliland and raced to a 25-17 win. Sudhoff had a set-leading four kills for Coldwater, while Gilliland, Kahlig and Olivia Harlamert added three apiece.
Kahlig carried the Coldwater load early in the third set, racking up three kills to lead an 13-8 start. Led by Taylor Alt, the Titans climbed back in the match with a 4-0 run. Alt picked up two kills during the run and Erica Annesser's spike made it 13-12 before a block by Coldwater's Elena Knapke stopped the bleeding. Ottawa-Glandorf was within a point just once more at 19-18 after back-to-back spikes by Maddie White.
Kahlig didn't let it get any closer. She had three kills and an ace and Gilliland supplied the ending points with a kill and a block to cap a 6-3 match-ending run.
"Tasha just does so much for our team. She's a gamer," Coldwater coach Nikki Etzler said. "She works hard everyday in practice, whether she's sore or injured. She is so confident and she is so lights-out smart. Her volleyball intelligence allows her to do so many great things for us.
"They serve so aggressively and they are very strategic in their serving and tried to take us out of system," Etzler added. "That's something that maybe a spectator doesn't understand, but us coaches knew that they were going to come in and be really aggressive on their serve. I was excited to see us really buckle in on serve receive and do a good job of that. We also knew that we were going to have to be really good on that block because they have two lethal threats who always want the ball. We knew we'd have to use the middle to take that away. I was excited to see us execute our strategy."
Knapke had 29 assists for Coldwater. Sudhoff had eight kills and three blocks, Gilliland totaled 11 kills and four blocks, Harlamert had 10 digs and six kills, Alig had 12 digs and three aces and Taylor Siefring added 13 digs and two blocks.
Taylor Alt had 13 kills to lead the Titans.