Tuesday, October 31st, 2017
Trip to D.C. brings back memories for local vet
By Tom Stankard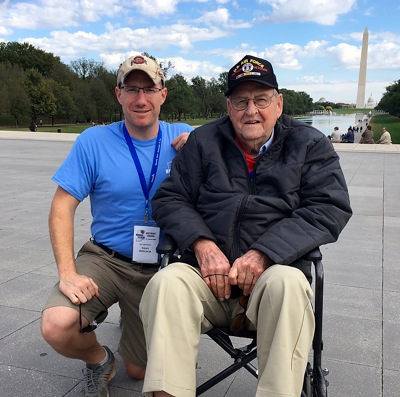 CELINA - Local veteran Milt Davidson during his whirlwind Honor Flight trip to Washington, D.C., last week remembered his military career that spanned two wars.
Davidson, 86, Celina, first joined the Army Reserves in 1947 and served five years before joining the Air Force in 1952.
Serving during the Korean War, Davidson, who grew up in Oklahoma, was stationed in Japan, where he helped assemble planes. He was stationed at Luke Air Force Base in Arizona after the war, and in 1963 was sent to France and then to Germany. At Luke, he met his future wife, Norma, a Celina native. The couple later settled in Las Vegas, where they lived for one year before he was deployed to Thailand for the Vietnam War.
He recalled Vietnam being a scary experience. While stationed in Thailand, he made several trips to the war-torn country to help gather battle-damaged equipment in need of repair.
"When we were in Thailand, you were pretty safe. In Vietnam, you didn't know what to expect. I was scared the whole time in Vietnam," he said.
He recalled his most intense moment in Thailand occurred when a plane blew up.
"The machine gun on it with multiple rounds in it went off. Bam, bam, bam," he said. "I went for cover under a table in a trailer. When I finally came out from underneath the table, I realized the dog-gone trailer was loaded with ammunition."
He served in the war until 1968 and then was transferred to the Davis-Monthan Air Force Base in Tucson, Arizona. Then in 1970, he moved to the Elmendorf Air Force Base in Anchorage, Alaska, where he remained until he retired in 1975 as a tech sergeant.
Davidson was invited to participate in the recent Honor Flight as a salute to his service.
His memorable trip began on Wednesday with a flight from the Indiana National Guard base in Fort Wayne to Washington.
On the plane, Davidson opened a large envelope of letters and cards from local officials and citizens, including State Rep. Keith Faber, Mercer County Sheriff Jeff Grey and clerk of courts Calvin Freeman.
Scores of people welcomed the more than 80 veterans on the trip. This experience was different from when he returned from Vietnam, Davidson recalled.
"When I came home from Vietnam, they wouldn't even talk to you," he said. "I guess people hated us."
At the nation's capital, Davidson and his guardian and grandson-in-law Tony Bidlack, Celina, rode on a tour bus led by a police escort to visit the multiple war memorials and government buildings.
"It was a long day that was beyond belief, but I never closed my eyes," Davidson said. "I'm still in a spin."
Visiting the Vietnam War Memorial and watching the changing of the guard at the Tomb of the Unknown Soldier in Arlington, Virginia, were two of his most memorable moments, he said.
While at the tomb, Davidson and Bidlack came across a group of Coldwater eighth-graders. The children shook the veteran's hand and thanked him for serving their country, Bidlack said.
"It was impressive seeing how respectful the kids were," Bidlack said. "They're doing something right in Coldwater."
Davidson said he didn't want to leave the capital, but when they arrived back in Indiana, he noticed thousands of people waiting to welcome the veterans home.
"It was beyond anything I expected, he said.
Davidson said he would definitely take the trip again and recommended all veterans take the opportunity.