Saturday, November 4th, 2017
Cats beat Redskins 40-24
By Bruce Monnin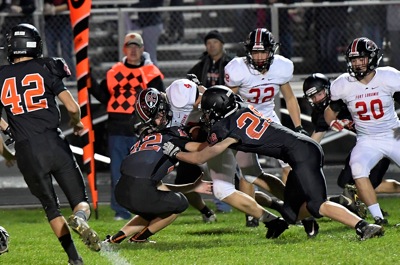 MINSTER - The Minster Wildcats broke out the big plays early and often, hanging 40 first-half points on the Fort Loramie Redskins during a 40-24 first round Division VII Region 28 playoff victory.
Minster (7-4) takes on top-seeded Crestview next Friday at a site that will be announced on Sunday. The Knights routed Ansonia 63-22 in Convoy. Fort Loramie ends its season with an 8-3 record.
All six of Minster's touchdown drives featured at least one play of 23 yards or longer.
"We prepared like really good players are supposed to prepare," remarked Minster coach Geron Stokes. "Unbelievable effort and focus by our entire eleven on each side of the ball in the first half. (The big plays) went exactly the way we practiced."
The Wildcats' first series featured a 62-yard run by quarterback Jared Huelsman. Isaac Schmiesing finished the drive with a two-yard run for the early 6-0 lead. Minster's other first quarter drive was highlighted by a 49-yard pass from Huelsman to Austin Brown. Huelsman then ran it in from one yard out for the 13-0 lead after the opening stanza.
The second quarter saw the Wildcats reach paydirt four more times. First it was Schmiesing breaking free for a 73-yard scoring run. A 23-yard pass to Alex Lehmkuhl set up the secord score, a five-yard Huelsman run.
The third drive of the quarter concluded with a 25-yard strike from Huelsman to Cody Frericks. Finally, just before halftime, Huelsman found Schmiesing for a 33-yard pass to get deep into Redskin territory and then Huelsman found Frericks again with a 11 yard touchdown toss to make the score 40-0 at intermission.
The running clock led to a rapid, scoreless third quarter. As more substitutes entered the game, Fort Loramie scored four times in the final period. Nick Brandewie crossed the goal line on a five yard run, then a Wildcat bad snap gave the Redskins a safety. Two long scoring runs by Max Hoying of 44 and 55 yards yielded the final 40-24 score.
"Our practices have been phenomenal. There's a hunger in our locker room on Monday, Tuesday, Wednesday and Thursday. The mission was to protect the house, and they were on fire tonight," complimented Minster coach Geron Stokes. "Getting our playmakers to make plays is critical this time of year. When it gets cold out, dudes gotta be dudes."
Schmiesing was the leading rusher for the Wildcats with 110 yards on just 7 carries. Huelsman added 93 rushing yards on 8 carries and posted 155 passing yards while completing 8 of his 11 attempts. Max Hoying was the leading Redskin rusher with 107 yards on four fourth quarter carries.