Monday, November 13th, 2017
Finally! A Cardinal coronation
New Bremen wins first state title in school history with sweep of Aquinas
By Colin Foster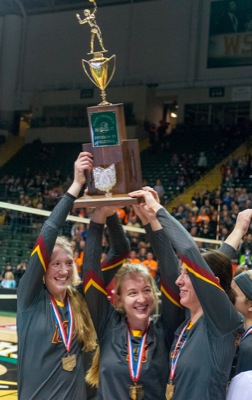 FAIRBORN - New Bremen players celebrated on the court.
The fans went crazy in the stands.
Finally, the Cardinal community got the state championship coronation it had been awaiting for so long.
On Saturday, the Cardinals became the first team from New Bremen and Auglaize County to win a state title, sweeping Louisville St. Thomas Aquinas 25-9, 25-18 and 25-20 in the Division VI title game at the Ervin J. Nutter Center.
"New Bremen has had unbelievable teams for many, many years, for many, many seasons," New Bremen coach Diana Kramer said. "It's just as good as those teams were, the day that they ended up playing, somebody was just a little bit better. It takes an unbelievable team, a lot of luck, everything has to fall into place just right to win a state championship. I'm just thankful that everything fell into place for us.
"Mercer County is right there. Shelby County is right there. Literally, we can throw stones to each of those counties. So when we found that out we were the first from Auglaize, I had no idea. But we're proud to be the first and hopefully, somebody can be the second real soon."
New Bremen had struggled in opening sets of its previous two four-set wins. But they came out cooking on Saturday, dispatching of Aquinas in just 57 minutes.
"We knew if we came out nervous, it was going to be like it was against Fort Loramie. It was going to be like it was against (Buckeye Central on Thursday)," said New Bremen's Paige Jones. "We knew if we played our game that we're hard to beat. And we knew the nerves held us back."
Julia Goettemoeller had three quick kills in the opening set in helping New Bremen build a 6-1 lead. Aquinas got within three points once, at 9-6, and then New Bremen closed with a dominating 16-3 run, Jones ended it with a long service run and one of her five kills.
The Michigan-bound Jones opened the second set with a kill in the midst of Ohio State-related heckling directed at her from the Aquinas' student section.
"I'm used to (Ohio State chants)," Jones said.
Jones was on her way to establishing a few more state kill records.
This second tilt was more competitive, though a New Bremen win was never in doubt. Aquinas was within one point at 18-17 when a hitting error and a Macy Puthoff block kicked off a 7-1 run to close the set. Abbi Thieman had an ace as part of a long service run and Jones added the finishing touches with a kill and an ace.
And in a matter of minutes, a dual stuff at the net by Claire Pape and Rachel Kremer capped a 25-20 victory in the third set, setting into motion a wild celebration at the Nutter Center.
"I tell the girls that they should be nervous," Kramer said. "This is not just another day. This is not just another game. That's how life is. When you get married, it's just not another day. When you have a child, it's not just another day. And this ranks up there. I'm very honest with them. They know that they're allowed to be nervous. But when push comes to shove, you've got to show up and you've got to believe in yourself. Today, they believed in themselves."
Jones finished with 25 kills, which ties the overall all-division kill record for a three-set state match. Jones, who had a record total of 47 kills in the semifinal win over Buckeye Central, finished the tournament with 72, not only breaking the Division IV record of 57 held by former Marion Local standout Alyssa Winner in 2008 but also breaking the overall record of 59 that had been held jointly by Katie Dull of Walsh Jesuit (2006 Division II) and Newark Catholic's Sarah Clapper (2004 Division IV).
Kremer was second for New Bremen in kills with seven and Goettemoeller added six. Thieman led the way in assists (20) and digs (11).
But the biggest X-factor might have been the New Bremen crowd, according to Aquinas' leading hitter Katie Hiestand, who totaled 11 kills in the loss.
"It's kind of hard looking over and seeing the entire (side) filled and then looking over and seeing all of our little town fill up that little section," she said. "We appreciate everybody who came out to support us, but I think that played a part in it. I think it was somewhat in our team's head."
Asked about the support her team received along the tournament trail, the coach of the Cardinals had to fight back the tears.
"I'm a very emotional person, so I'm just warning you," Kramer said. "The entire town was here. The entire town has been behind us all season. And then with Coldwater and Versailles playing after us, everybody from the MAC was here, whether they're playing or not. That's the kind of camaraderie we have. When we play each other day in and day out, we want to beat each other. But when push comes to shove, we are there to support each other. It's unbelievable. It's a dream come true."